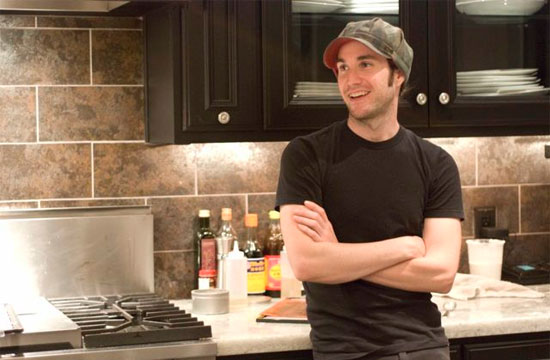 Dear fancypants Braiser readers: it's time for the annual Food Issue of The New Yorker! It includes some of your favorite writers writing highbrow cultural essays on the universal nature of food. It even features a poem about food from U.S. Poet Laureate Robert Pinsky! What a thorough compendium of the zenith of culinary culture, hem hem.
Naturally, such a food issue of a distinguished magazine needs to profile a talented, up-and-coming chef who Reflects Something About The Evolution Of Modern Eating. Last year, they followed Rene Redzepi through the woods to illustrate foraging; this year, they dine with chef Craig Thornton of Los Angeles' Wolvesmouth, a sixteen-seat restaurant run out of his dining room.
Thornton has turned down many chances to appear on Top Chef or own his own restaurant, but allowed the New Yorker to follow him around his living room. And as the seven-page profile unfolds, you realize that no, it's not an unabashed celebration of the pop-up ethos. (Indeed, a vignette at a different pop-up restaurant comes across as gratingly annoying and uncomfortable to even read.) Instead, as one star in a movement of DIY restaurateur-ing, Thornton comes across as talented in spite of a Breaking Bad-esque background, and the entire piece highlights how his focus on cooking is pushing him, intentionally or not, into the mainstream:
But he has been reluctant to leave the safety of the den, where he exerts complete control. "I don't want a business partner who's like, 'You know, my mom used to make a great meat loaf—I think we should do something with that,' " he told me. "I don't necessarily need seventeen restaurants serving the kind of food I do. When someone gets a seat at Wolvesmouth, they know I'm going to be behind the stove cooking." His stubbornness is attractive, particularly to an audience defined by its pursuit of singular food experiences. "He is obsessed with obscurity, which is why I love him," James Skotchdopole, one of Quentin Tarantino's producers and a frequent guest, says.
The entire article is available online here; the Food Issue hits newsstands December 3rd.
Have a tip we should know? tips@mediaite.com