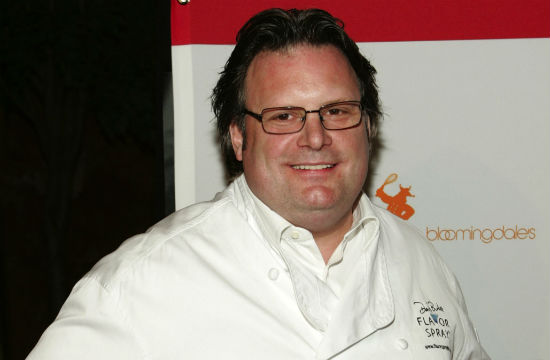 There's some question as to whether or not "dish stealing" actually exists in the culinary industry: we've watched many a Top Chef feud break out over it, but, also, most chefs pretty much just accept that it comes with the territory. David Burke threw down the gauntlet in a recent interview, claiming that Iron Chef Morimoto straight up jacked one of his dishes, right down to its ridiculous name, and there's only one way to settle the debt.
When asked what chef he'd most like to go against in a competitive cooking arena, Burke, naturally, answered Morimoto, and hoped that their secret ingredient might be the star of his swiped dish so that he may redeem himself:
"I wouldn't mind doing duck because he stole one of my duck recipes, [called] 'Duck Duck Duck.' So tell him it is 'Duck Duck Duck' time," David challenged. "I had it on the menu years ago. It's just the title of the dish. I stole it from the rhyme 'Duck Duck Goose.'"
Yeah, Dave, we picked up on that.
As for other chefs he'd go up against? "Mario (Batali) would be a good one too. I think that would be a good assignment. Emeril would just be fun… it wouldn't be a true competition though because we really like each other," David admitted. "And with Morimoto, I feel like I'd have to shake some pounds off. Me and Emeril, we'd be like 'Let's take it easy, let's not get too crazy, this is for charity.'"
Have a tip we should know? tips@mediaite.com