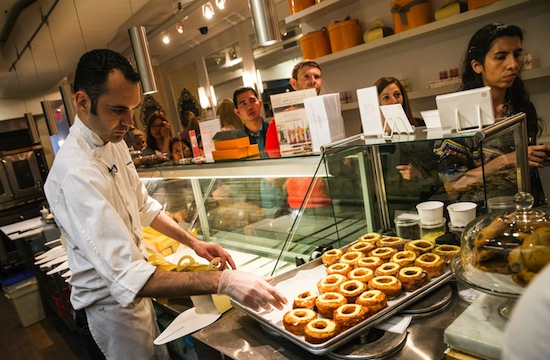 There are perks to being a wildly successful Daniel Boulud protege, gaining Jimmy Fallon as a bro, and running an elite underground pastry swapping ring with Christina Tosi. Oh, right, also inventing the world's most sought-after breakfast dessert during the slowest news week of the summer, ensuring every food blog in the tri-state area runs with your little doughnut/croissant baby, and turns you into the "Blurred Lines" of summer pastry.
Among those perks: your very own book deal with Simon & Schuester! Except cookbooks take for-literally-ever to bake off, so you, dear friends, have another whole summer of dewy morning cronut lines left before you can get your hands on a copy of DOMINIQUE ANSEL: The Secret Recipes, presumably containing an at-home version of his cronut formula, like a benevolent, pastry-hustling Walter White. The book is due for an October 2K14 release.
"I have waited in line for hours to taste the Cronut™, and I am ecstatic about working with Dominique," says editor Michael Szczerban in a press release. "He is a modern-day Willy Wonka, and his book is about magic: the transformation of humble ingredients into memories that last a lifetime."
He means a modern-day Walter White. Worry not, Cristina Tosi. You'll always be the Omar Little of our hearts.
RELATED:
WATCH: Dominique Ansel Sends Jimmy Fallon's Audience Into Frenzy With Free Cronuts
Last Call: Christina Tosi & Dominique Ansel Sent Their Goons To The Wharf At Night To Trade Pastries
More Milk Bar Treats For You! Christina Tosi To Publish Second Cookbook
Have a tip we should know? tips@mediaite.com