WATCH: All the References to Weight, Plus an Epic Slut-Shaming From Bravo's Eat, Drink, Love Premiere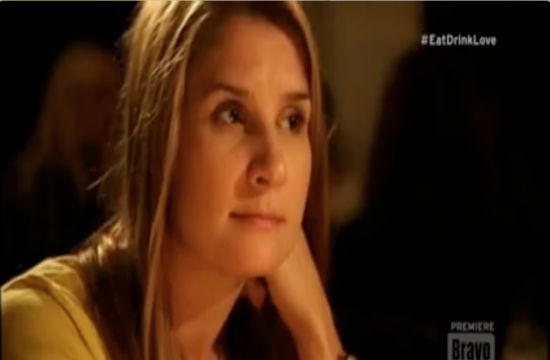 The premiere of Bravo's Eat, Drink, Love, which follows five women through various facets of the food industry, featured cameos from such prominent celebrity chefs as Eric Greenspan, Chris Crary, and Michael Voltaggio (via a reminiscent ex-boyfriend montage from Waylynn Lucas, founder of Fonuts). Sadly, we can't bring any of their cameos to your attention today, because the premiere had much bigger issues.
Like, for example, OH MY GOD, how many times do we have to talk about weight and diet on a show about glam food industry personalities. Also, is any woman in Los Angeles capable of speaking in a grounded voice? Also, did a series that opened with a mantra about how women in the boys' club have to watch out for each other and help each other out really end with an appalling birthday party slut-shaming so offensive that we threw up in our mouths watching it? Sidebar: We miss The Hills. Without further ado, here are the Five Steps Back For Feminism that Eat, Drink, Love took last night.
1. The quote from Marketing Developer Jessica Miller: "The thing that I think about the most is, how do I make everyone forget that I'm 100 pounds, 5'1″, look like I'm 12, and that I'm a woman." Really? That's the thing you think about most?
2. God bless Publicist Brenda Urban, the show's token 'fat, bitter divorcee from New York.' She's so New York. We feel for her. She's insufferable, but we feel for her.
3. Skinny girls get set up with cute chefs and giggle about it, while Fat, Bitter Divorcees From New York get set up with 350-pound chefs and complain about it. This is the lay of the land in sunny LA.
4. Let's all have a friendly discussion about whose ass is bigger over tapas. (Or, Fat, Bitter Divorcees From New York Hate Everyone.)
5. Although we respect Private Chef Nina Clemente's attempts to get a Fat, Bitter, Divorced sista-girl laid on her birthday, this game of Birthday Party Truth or Dare brought out the baby-stripper voice in everyone, with the exception of Waylynn. Thank you, Waylynn. We're sorry Michael "The Angry One" Voltaggio yelled at you so much in your relationship. But baby-stripper voices wasn't even the worst of it. The worst of it was Very Drunk, Very Bitter, Very Divorced Brenda calling out Eater LA Editor Kat Odell for having four or five boyfriends while Kat was clearly trying to get her mack on with someone.
How many steps back for feminism will next week's episode take? We'll keep you posted.
RELATED:
Girl On Girl Action: Our Editors Go Deep Into The 'Female Chef' Debate
LA Weekly & Eater Founder Get Into It Over Kat Odell's Portrayal On Eat, Drink, Love
Have a tip we should know? tips@mediaite.com