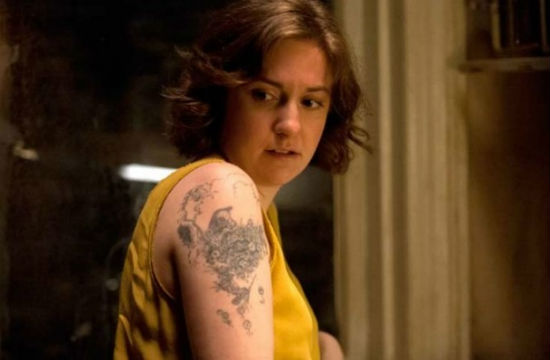 Okay, so you easily spent six hours in front of the TV last night, between the Golden Globes, the Shameless premiere, the much-anticipated Season 2 premiere of HBO's Girls, and then drunkenly capping it all off with Rachael vs. Guy Celebrity Cook-Off, right? Of course. We feared that Eddie Huang would be too busy hawking his memoir Fresh Off The Boat, which hits shelves so so soon (January 29th!), to write his customary Girls recap. We of little faith…
Here are his three best excerpts from last night's episode.
On the addition of Donald Glover to the cast as Hannah's new boyfriend:
I'm very excited even though he's perpetuating that stereotype that black dudes will date anything that has pink nipples even if it looks like stuffed cabbage with a mustard gravy blouse she bought at Buffalo Trader Joe's. Last week, I went with a friend to sell clothes at Buffalo in Williamsburg. It was fucking hilarious watching people bring clothes for sale that looked like they pooped in them. Like, hey, this isn't designer, this isn't even forever 21, this isn't even defective Polo from Marshall's, but I did have a fish taco accident in it. You want? If you're bored this week, get blazed, get a powerade zero (cause we off them carbs after 3pm, thanks Oprah), and go laugh at people trying to sell clothes they pooped in.
Yup, that was all about Donald.
On Marnie eating two lunches in one episode:
Man, white people RUN lunch. I can never get away with two lunches and I bet Childish Gambino never gets to have two lunches in one episode this season.
BUT IF YOU MOUTH BREATHERS PRE ORDER MY BOOK THEN I CAN GO ALL M.I.A., EAT TRUFFLE FRIES, AND HAVE 88 FUCKING LUNCHES THIS YEAR! PLEASE BELIEVE I WILL NEVER TELL YOU MY GOAL IN LIFE WAS TO BE A POOR SRI LANKAN REVOLUTIONARY. MY GOAL IN LIFE IS TO EAT TRUFFLE FRIES WITH THE NEW YORK TIMES AND I WILL SHOW TRIBUTE TO MY RACE BY INSTAGRAMMING SAID LUNCH AND THEN YELPING THE RESTAURANT LIKE MY USER NAME IS TWINKLE-TOE-MSG888. YOU ALREADY KNOW: ELITE YELPER SINCE 2008
Annnd there's the hawk.
On Marnie's foxy mom dating a cater waiter:
I hope NY Magazine asks this question: "Are Cater Waiters the New Nick Cannon?" I guess if I was an independent, sexually liberated, old bird that had money and thus no need to ever wash another man's wok… I would sleep with cater waiters and couriers from Kenan & Kel. #Feminism #ItsAlive
#OneOfThreeCelebrityChefsOnTwitterWhoUsesHashtagsCorrectly #EddieHuang
You can read his whole recap, visual aides included, here.
Have a tip we should know? tips@mediaite.com