WATCH: Gordon Ramsay Gets Sawed In Half By Penn And Teller On Hell's Kitchen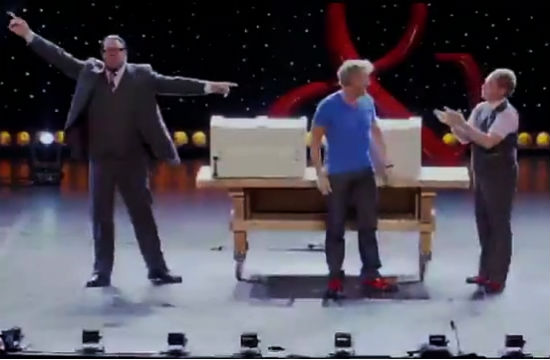 Last night's Hell's Kitchen proved, if nothing else, that things get weird in Vegas. Gordon Ramsay jetted the final two cheftestants, Justin and Christina, off to the winner's future home to take in a show and relax, but, of course, the shouty chef had a trick up his sleeve. Of the magical persuasion!
Justin and Christina met up with their families and settled in at the Rio for a Penn and Teller magic show. There were lights, noise, and showgirls, but the evening's big moment came when Penn revealed the magician's secret behind sawing someone in half. He rolled out Teller in a box, took an electric saw to his body and then revealed that Teller was actually scrunched up in the top box half while someone else lay underneath the rig, posing as the legs. And you'll never guess who those legs belonged to. Watch the clip.
Yes, much to Justin and Christina's horror, they were pulled on stage and given their challenge in front of a live audience. Gordon announced they had one hour to cook five dishes for an all-star lineup of judges, and then off they ran, up the aisles and into a kitchen to cook while the audience watched from a live feed into the theater. Aside: were these magic patrons bummed that they paid for a Penn and Teller show only to have it hi-jacked by Gordon Ramsay and be forced to watch two people cook for an hour? No. See above when: Penn and Teller are announced to tepid applause, but Gordon jumps out of the box and the crowd goes wild. What? Okay.
So anyway, after Justin and Christina cook their little hearts out in some mysterious offstage kitchen, it's time to present to five master chefs, including Wolfgang Puck, and one of Christina's longtime idols. Check out the two clips below to see all the judging action.
(We'll spare you the suspense — the winner was Christina. Hooray!) That meant she got first pick of the brigade, which she would choose from the last 8 eliminated Hell's Kitchen contestants. Stay tuned next week for the finale, when we'll see who's crowned the new executive chef of Gordon Ramsay Steak in Las Vegas.
Have a tip we should know? [email protected]