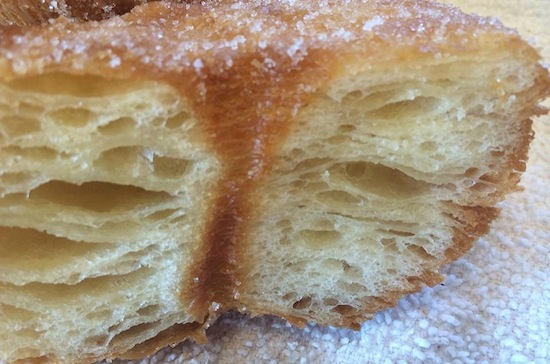 We'd tell you to make your own Cronuts at home and skip the Cronut line altogether, but when you really study this recipe (difficulty rating: "extreme"), we'd say that waiting a few hours in line is worth it.
Dominique Ansel dropped the at-home recipe for the Cronut on Good Morning America, and it's a doozy. This bad boy takes at least three days to make, so we are really hailing Ansel as the pastry king because by God we don't even have the patience for those days when the line to get coffee is more than two people deep.

More ABC news videos | ABC Entertainment News
Grubstreet explains why it's not just the insane equipment that will make you lose your mind when attempting at home:
The basic ingredients seem pretty simple … But you soon realize this doesn't even include the 18 more tablespoons of unsalted butter to get as close to the original pastry's peel-apart layers as you can — overall, we're talking 368.55 grams of butter for every 412.5 grams of flour here, and that's not including even more heavy cream for the ganache — those recipes require tempering chocolate, blooming gelatin, and/or cooking custard. So, in addition to the two days of prep you need to do before you can fry your first Cronut (because the dough needs to proof and the ganache filling needs to rest), you'll also want to schedule a few more days of pre-planning.
Yeah, our minds are spinning. Ansel knows it's not easy either.
@firstwefeast :) never said it was easy…but if people want to do it right, this at-home recipe is the best way. :)

— Dominique Ansel (@DominiqueAnsel) October 6, 2014
So uh, Ansel, does your new cookbook include recipes for the "break and bake" cookie-challenged? No? Ok, see you in the morning in the Cronut line.
[Good Morning America, Grubstreet]
Have a tip we should know? tips@mediaite.com