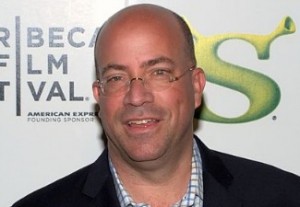 The Jeff Zucker era at CNN has been marked with a great number of changes, especially in primetime, with the 9 pm hour being handed over, for the most part, to reality programming. And in a new profile for New York Magazine, Zucker opens up about those changes and dismisses all the criticism he's received for all that change.
The profile shows Zucker to be a very hands-on leader (Anderson Cooper reportedly called him "the first CNN president to actually watch CNN"), but not everything he's done has been successful. His Crossfire revival is on an indefinite hiatus, and ratings for certain shows didn't do as well as hoped. And with all the changes going on, especially the reality shows in the 9 pm hour, Zucker acknowledges, "We're doing some things that antagonize people who are so protective of the legacy of CNN. We have to change."
RELATED: CNN Boss Jeff Zucker: Cable News Is Not a 'Very Healthy' Business
The profile provides some behind-the-scenes tension over several big stories. For one, Zucker himself got a bit frustrated with that infamous Don Lemon comment about black holes. And CNN sources relayed to NY Mag that Cooper and Jake Tapper took issue with all the coverage of, respectively, MH370 and the George Zimmerman trial.
But CNN has also been the subject of much mockery and criticism from outlets like SNL, Vice, and, of course, The Daily Show. Jon Stewart mocking CNN is a regular occurrence these days. And this is what Zucker has to say about it all:
Zucker responds to the attacks with a mixture of bluster and prickliness. "I don't take Vice seriously," he said. "They produce 15 hours of television [a month]. We're going to do that between now and tonight." Jon Stewart, too: "We're on 24 hours a day, seven days a week. He's doing one seven-minute monologue four nights a week with 20 writers."

Zucker tries to see the arrows flying his way as a measure of progress. "People talk a lot more about CNN today," he said. "I'm a big believer in 'It's all good.'"
Zucker also has a lot of personal critics in Hollywood, and to them he says, "I've dealt with a lot of shit, so when you talk to me about Hollywood, and some people in Hollywood not liking me, with all due respect, it's not important."
You can read the full profile here.
[image via David Shankbone]
— —
Follow Josh Feldman on Twitter: @feldmaniac
Have a tip we should know? tips@mediaite.com
Josh Feldman - Senior Editor