How Tyler Florence Lost His Celebrity Empire During The Recession (And Won It Back)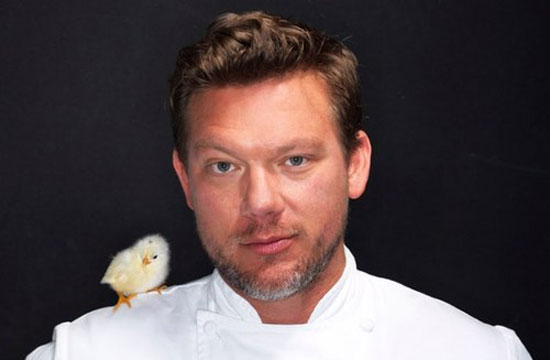 This has certainly been Tyler Florence Week, thanks to the TV chef's media blitz promoting his cookbook Fresh. But five years ago, this kind of glory was hardly in his cards — indeed, thanks to the recession, the celebrity chef empire he built off his fame crumbled underneath his feet.
In an interview with the AP, Florence recounted the height of his pre-recession fame: with three shows on the Food Network and a seemingly unlimited amount of money, he and his wife decided to move to California to raise their first child. That was 2006. Then 2007 rolled around:
"The world fell apart," Florence said over a glass of wine during a break at the recent New York City Wine and Food Festival. "We'd just moved to California and the economy collapsed. My wife and I were just terrified. Food Network canceled two of my seasons because they literally didn't have the ad money to pay for it.

"All public appearance business dried up overnight," said Florence, who also was taking heat for a lucrative – and to critics, laughable – 2006 consulting gig with Applebee's. "It's almost like the business model that was just sort of handed to me and I took for granted was gone. I was like, `Wow! I don't think this stream of water will ever run out.' And when it did, I was really terrified."
He continues the interview with a rundown of how he rebranded and rebuilt his empire (key move: asserting his own culinary "voice" through tangible ventures like restaurants and stores, rather than coasting on his admittedly good looks on the television), but it's rare to see a celebrity chef figure — one whose reputation banks on media instead of food — make a successful comeback. Even rarer: seeing a former Food Network star — who once had to lay off all his employess during his downfall — recast himself as a serious, successful chef. (Heck, even the notoriously serious San Francisco restaurant community eventually accepted his restaurant.)
Rocco DiSpirito? You could probably learn many lessons from this profile.
Have a tip we should know? tips@mediaite.com