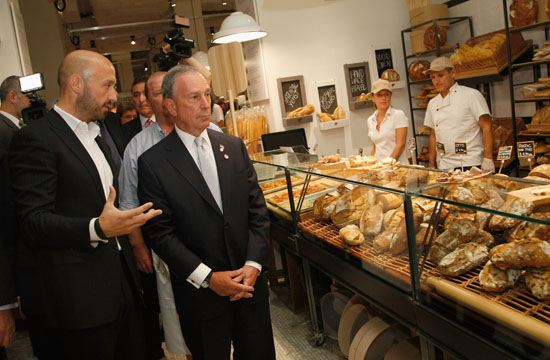 Eataly, the Italian food megapolis owned partially by Mario Batali and his partners, Joe and Lidia Bastianich, has already laid conquest to America with outlets in New York, Chicago, and maybe Los Angeles. But in an interview with AdWeek for their food issue, Joe Bastianich casually mentioned that the global superstore was thinking about entering an emerging market: China.
Specifically, he wants to target Shanghai. "It's 25 million people who hopefully want to eat some pizza and pasta and drink Italian wine," he told the magazine.
It wouldn't be Eataly's first foray into Asia (the chain has four locations in Japan), but it would be the first into China, an emerging economic superpower whose wealthy citizens adore the luxuries of fine wine and cured hams. (BRIC nations, whatup!) We're surprised Bastianich doesn't want to hit up Hong Kong, notorious for their (surprisingly strong) Italian restaurant scene, but we understand the benefits of Shanghai — like, for instance, the fact that it's the economic capital of China, with an extremely strong service sector and, most importantly, a growing middle class inclined to think that imported Italian imports are the height of sophistication (which, really, they are).
Also, Hong Kong real estate is best described as "overly expensive and frighteningly cramped" — a bane for Eataly, notorious for its sprawling and endless aisles of everything ever conceived in the mind of an Italian nonna.
Were you aware that contrary to popular belief, pasta was not brought to Italy from China via Marco Polo? Does this make Joe Bastianich a reverse Marco Polo? Why does "reverse Marco Polo" sound like a weird sex position?
[AdWeek]
RELATED
Joe Bastianich Turns Crappy Old Sports Bar Into Shiny New Eataly In Chicago
Eataly Conquers The Seas, Opens Branch On This Cruise Ship
Not Even Mario Batali's Eataly Can Rescue Katie Holmes' Cooking
Have a tip we should know? tips@mediaite.com