Gingrich Questions 'Neocon' Beliefs In Favor Of Rand Paul's: 'Hard To Argue Our Policies Have Been Effective'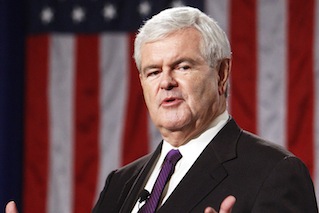 In the battle between the GOP's libertarian and neoconservative wings, the libertarians may have just gained a defector.
Former House Speaker and ex-GOP presidential candidate Newt Gingrich told the Washington Times that he was reevaluating his neoconservative positions on foreign policy, suggesting that Rand Paul's more isolationist policies warranted renewed attention.
"At some point, even if you are a neoconservative, you need to take a deep breath to ask if our strategies in the Middle East have succeeded," Gingrich said. "It may be that our capacity to export democracy is a lot more limited than we thought."
"I think it would be healthy to go back and war-game what alternative strategies would have been better, and I like Ted Cruz and Rand Paul because they are talking about this," Gingrich said.
Paul's anti-interventionist policies have made him enemies in a party most recently dominated by neoconservatives, a rift most recently highlighted by his opposition to the Senate bid of Liz Cheney, who is a firm supporter of her father's neoconservative policies.
Gingrich insisted that this switch is the result of long consideration. "My worry about all this is not new, but my willingness to reach a conclusion is new," he told the paper.
Indeed, the Times pointed out that Gingrich has questioned nation building in statements reaching far back as 2003. Gingrich also included George W Bush's administration in the timeline of his critique of America's foreign policy. "I think we really need a discussion on what is an effective policy against radical Islam, since it's hard to argue that our policies of the last twelve years have effective," he said.
Read the full interview HERE.
[h/t Washington Times]
—
>> Follow Evan McMurry (@evanmcmurry) on Twitter
Have a tip we should know? tips@mediaite.com