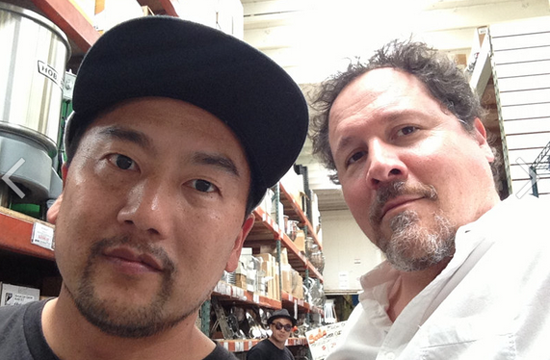 Are we running around the office losing our minds right now, like Veronica Mars fans learning that their Kickstarter-funded movie will screen at SXSW in less than two months? Mayhaps. But for entirely-different-slash-somewhat-similar reasons.
YOU GUYS! JON FAVREAU'S CHEF IS ALSO PREMIERING THERE. In fact, it will be the festival's opening-night world premiere on March 7th.
"Jon Favreau's wonderfully entertaining return to independent filmmaking works beautifully as our 2014 opening-night film, with his sharp and funny take on the world of food, artistry, and family in the age of social media," said head of SXSW Film, Janet Pierson.
According to the film roster:
"When Chef Carl Casper (Jon Favreau) suddenly quits his job at a prominent Los Angeles restaurant after refusing to compromise his creative integrity for its controlling owner (Dustin Hoffman), he is left to figure out what's next. Finding himself in Miami, he teams up with his ex-wife (Sofia Vergara), his friend (John Leguizamo) and his son (Emjay Anthony) to launch a food truck. Taking to the road, Chef Carl goes back to his roots to reignite his passion for the kitchen — and zest for life and love."
The 21st Annual SXSW Festival runs March 7-15. Now who's driving us to Texas? We'll bring the snacks.
RELATED:
WATCH: Does Jon Favreau Really Make Top Chef-testants Go Freegan in the French Quarter?
Okay So Jon Favreau's Filming in NOLA; Where Does This Chef Movie Take Place, Anyway?
Jon Favreau's Chef Movie Entangled In Fraud Lawsuit
Have a tip we should know? tips@mediaite.com