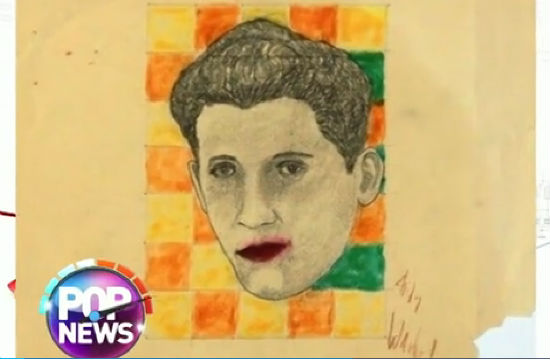 Today in Antiques Roadshow Isn't Just For Crazies Anymore news: some British dude named Alan Fields (so British) bought this drawing at a Las Vegas garage sale for $5, realizing once he got it home that it was none other than a portrait of Food Network Star Season 8 winner Justin Warner SIGNED BY ANDY WARHOL. For realz. So, after excessive attempts at authentication, it was determined that the graphite portrait was actually of singer Rudy Vallee, and probably drawn by Warhol when he was about 11 years old. No, but seriously, let's talk about the bizarre resemblance to Justin Warner. (Especially since his Twitter fans have apparently been blowing up his shit about it all day.)
Aesthetically speaking, the cartoonish Jimmy Neutron 'do is nothing original. (See: Jimmy Neutron.) We happen to think the uncanny likeness is all in the lips. Those glossy, maybe he's born with it, Giada De Laurentiis-melting, pillowy red lips.
The Andy Warhol Art Authentication Board disbanded before Fields could get any sort of official official stamp on it, so he's been forced to try auctioning the portrait on eBay, since he can't get a real art house to pick it up.
The bid is up to $1.9 million, probably fronted by a sweet-enough-seeming, but ultimately terrifying gaggle of teenage J-Dubs fans (comprised 80% of giggly girls and 20% of questioning boys), who, as we speak, are drafting the custody agreement for who gets to take home the laminated portrait on which night to pin on the wall and pretend-make out with.
Check out GMA's (non-Justin-related; weird) coverage for a better look at the portrait below.
Have a tip we should know? tips@mediaite.com