Austin Showers In Uncomfortable-Member: Rick Santorum Says Liberals Ruining Texas YMCA Shower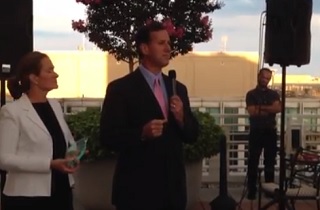 Former Senator Rick Santorum (R-PA), who also hung surprisingly tough in the 2012 Republican presidential primary race, says he is "open to" another bid in 2016, and if his comments at a recent awards ceremony/patio party are any indication, the media is rooting for him. In accepting an award from an anti-abortion-rights group recently, Sen. Santorum told the assembled Students For Life (maybe if they studied more?) that the pro-choice movement "make it uncomfortable for students who come to Austin to shower at a Young Men's Christian Association, YMCA gym."
In his remarks to the anti-abortion-rights, Santorum also compared the abortion rights struggle to slavery, an analogy that's embedded in the SFLA William Wilberforce Leadership Award, not to be confused with The Colson Center's William Wilberforce Award, which was won by Cardinal Timothy Dolan this year.
Santorum said that although the anti-abortion-rights groups have "the truth" on their side, the pro-choice movement is winning with magical athlete's foot, or something. "What the pro-choice movement does is they don't just focus on their little issue," Santorum said. "They focus on everything they do, and every aspect of their lives. They make it uncomfortable for students who come to Austin to shower at a Young Men's Christian Association, YMCA gym, because they live it. Because they live it. They're passionate, they're willing to do and say uncomfortable things in mixed company. They're willing to make the sacrifice at their business because they care enough."
He never really goes into the backstory on that YMCA gym story, which is a shame, because I'd like to know what happened at that particular gym that freaked Santorum out, and why that Y has people showering in "mixed company." Maybe he was distinguishing between the born and the pre-born?
If you let the clip play, though, Santorum then goes on to compare the struggle to the American Revolution, which is odd considering the name of the award he was receiving. Wilberforce was a British abolitionist whose career almost entirely encompassed the post-Revolutionary War period, during which the newly-freed Colonies continued slavery for decades after the British Empire abolished the slave trade. By the time the Civil War came around, slavery had to have been late into its 500th trimester or so.
Here's the clip, via YouTube:
(h/t Wonkette)
Have a tip we should know? tips@mediaite.com