The Colonel Vs. Hitler: KFC Sues Thai Chicken Restaurant For Taking Its Logo And Doing This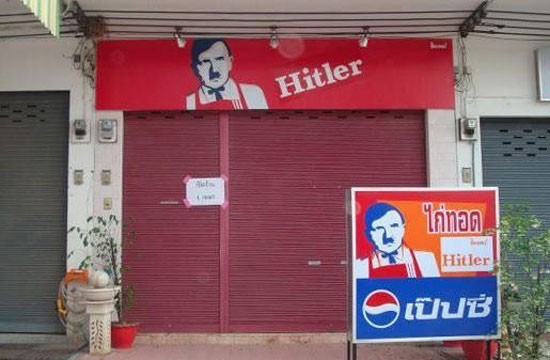 While fast food chains occasionally have to deal with vandals (and Larry David) drawing Hitler moustaches on their mascots, this is a new one: KFC is threatening legal action against a Thai restaurant specializing in "pretty good" fried chicken, whose logo is a dead ringer for the famous KFC Colonel. Y'know, if the Colonel looked like Adolf Hitler.
It all started when Andrew Spooner, the author of the "Footprint Thailand Handbook," visited a new chicken joint that opened in Bangkok — and found this Führer in an apron:
Very bizarre Hitler Fried Chicken shop in Thailand. I kid you not. Complete with pic of Hitler in bow tie http://t.co/9OS1FgfUCx

— Andrew Spooner (@andrewspoooner) May 28, 2013
The Huffington Post brought it to the attention of KFC's parent company Yum! Brands, who stated that they were looking into taking legal action, because, y'know, Hitler. "We find it extremely distasteful and are considering legal action since it is an infringement of our brand trademark and has nothing to do with us," a spokesman for Yum! said in a statement.
While the "Hitler chic" trend that seems to be sweeping Thailand, buoyed by a generation of young Thais who are "drawn to Hitler and his regime's hallucinogenic visual propaganda" but know nothing about the human rights atrocities perpetrated by the Nazis, it begs the question: so, uh, how does Hitler Fried Chicken taste? Does it taste like genocide and megalomania and burnt Reichstag? As expat Alan Robertson told The Sun, it's actually fairly — and guiltily– tasty:
"Nobody quite knows what to make of it. I went in for a bite last week and got some fried chicken, which was pretty good, and asked the guy behind the counter why it was called Hitler. He just shrugged his shoulders and said the owners had thought it was good image."

He added: "The Thai people are an odd bunch sometimes."
RELATED:
The Five Most Incendiary Comments Ever Made By Chefs
WATCH: Why Is Anthony Bourdain At A Fake KFC In Libya?
WATCH: 'God Bless Israel' Says Fake Obama In McDonald's Ad
Have a tip we should know? tips@mediaite.com