Lady Chef Stampede: How Elena Arzak Became The Best Living Lady Chef In The Whole World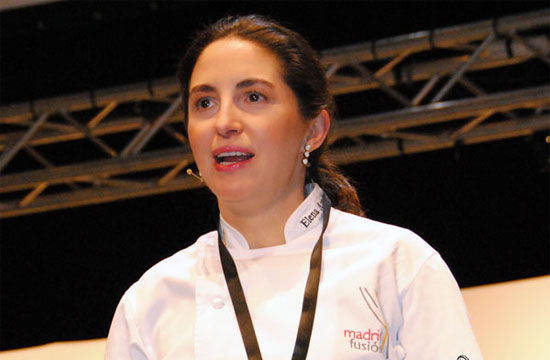 Welcome to Lady Chef Stampede, Amanda Cohen's series about the world's most influential Lady Chefs! Click here to read her Q & A with us about the column, or read on to learn more about this week's Lady Chef…
I'm holding a Lady Chef Stampede! On the Dirt Candy blog, I'm posting about the dozens of women who are changing the history of food, now and in the past. Whether they're chefs, restauranteurs, or writers, these are the women on whose shoulders we're all standing. But today's Lady Chef proves that you don't have to be dead to earn a place in the Stampede. Totally and 100% still respirating, she's currently the face of Basque cuisine, and is about to open her second restaurant after running one place in Basque for over 20 years. Meet Elena Arzak!
One of the reasons I think female chefs tend to be lower profile than male chefs is that more of them tend to have one restaurant they focus on. For all her TV shows, Paula Deen is really just associated with Lady & Sons in Savannah, Gabrielle Hamilton is at Prune and nowhere else, Anita Lo focuses solely on Annisa, Missy Robbins is at two restaurants but they're both A Voce. Elena Arzak is the chef at Arzak and it's taken her 20 years to decide to open a second restaurant. Compare that to Mario Batali's 16 restaurants, or Bobby Flay's seven (plus a burger chain). Arzak may be opening a restaurant, Amesta, in London, but it will only be her second. Her first one, the one she calls home, is the one that's been in her family since 1897.
Deeply rooted in the Basque tradition, Arzak started working in the family restaurant when she was 12, before heading off for London to cook in a bunch of different high-end restaurants like Le Gavroche, before returning to Restaurant Arzak. In 1989, her father, Juan Mari Arzak, had made it the first Basque restaurant to receive three Michelin stars, but together the two of them turned it into a restaurant that focused solely on not just saving, but revitalizing, Basque cuisine. When Elena started at Restaurant Arzak, chefs in the Basque region were using mangoes and other foreign ingredients to keep up with international trends. Elena continued the work of her father (who, in turn, said he was continuing the work of his mother), to put the focus on regional ingredients: olive oil, hake, squid, parsley, tuna, iberico ham.
But Elena wasn't just focusing on these traditional ingredients to make a Basque culinary museum, she was also looking to reinvigorate the cuisine, moving it into the future but on its own terms. She started making Basque moles, using tandoori ovens, experimenting with molecular techniques. It took her four years of experimenting to find what she calls her culinary voice, and during this process she said her dad left her alone because he was scared that if he stopped her, she would get bored and leave. He shouldn't have worried. The result has been a menu that is not quite traditional, not quite modern: sea bass covered with scales carved from potatoes dyed with squid ink and pimentos, hake steamed in clam broth with iberico ham powder, and chocolate marbles filled with creme anglaise, liquid whey, and oregano.
Today, they have a food lab in the restaurant, and Elena has won a shelf full of awards. They've injected fresh life into Basque cuisine, but it's recognizably Basque, to the point where Juan Mari claims that the only people truly capable of judging what it is they're doing are Basque diners. Even so, their food's found international acclaim. Elena won the Veuve Clicquot award for World's Best Female Chef in 2012, Restaurant Arzak maintains three Michelin stars, and it's ranked 8th on San Pellegrino's list of the world's best restaurants (making it the only restaurant in the top ten with a female executive chef).
Oddly enough, Elena and her father still share power at the restaurant. He may be 70, but they've worked together for 17 years, and they both must agree on a dish before it reaches the table. He can veto her ideas, and she can veto his. As he puts it, "She is a woman, I am a man. But in cooking there is only a plate. Sometimes she makes dishes I don't like. Sometimes I will make dishes that she won't like. But we make many, many dishes on which we agree. I have given a lot to her, she has given a lot to me. Our cooking is not from Juan Mari. It is not from Elena. It is Arzak."
In short, Elena Arzak is probably the most prestigious, award-winning female chef in the world right now. So it's weird that so few people know her name.
Amanda Cohen is the chef and owner of Dirt Candy, the vegetable restaurant in the East Village. Her award-winning graphic novel, Dirt Candy: A Cookbook, is the first graphic novel cookbook in America, and it's cheap, so you should buy ten copies.
Have a tip we should know? tips@mediaite.com