Last Call: This Is The End Of Seth Rogen And Evan Goldberg's NOLA Eating Adventures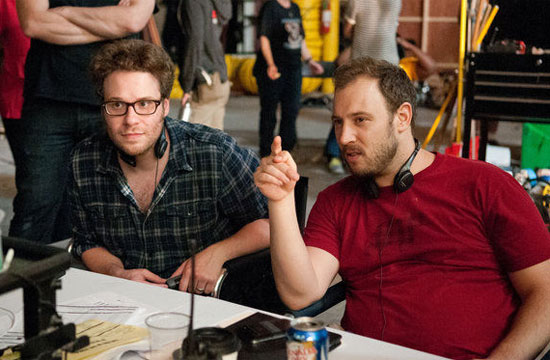 Times-Picayune: Seth Rogen and Evan Goldberg ate their way through New Orleans for four months while shooting This Is the End, and documented it for the Times-Picayune. Maybe it was the length of time they spent there, but for a couple of Canadians, they actually embraced the spirit of NOLA cuisine with aplomb.
Travel Channel: Remember obnoxious "Daym, Daym, Daym" YouTube critic of fast food restaurants, who was then even more obnoxiously auto-tuned into a song you'll surely never get out of your head now? TRAVEL CHANNEL GAVE THAT GUY A SHOW. We know. We can't, either.
Noma Blog: Rene Redzepi's childhood dream was apparently to be a beekeeper, which Noma is now trying to make a reality, along with planting its own coastal maritime garden. Maybe Rene can get #BeeTips from Tyler Florence.
The New York Post: Oh dear, Alton Brown's book list sounds a bit like a mid-life crisis in print. For instance, here's his take on The Heart of the Matter by Graham Greene: "ll turn 51 in July and I'm battling middle age…Graham is one of the finest writers in the English language, but don't read this 'til you're 50." Alton, we love you, but only when you're explaining endosperm, and not talking about our unavoidable, ever-impending deaths, looming over us like a fragile skyscraper about to tumble into ruin. Back to the endosperm, please.
xoJane: Aw, come on, Claire Lower! Eat the freaking bug! You'd better like it, because that's gonna be your only source of protein in like thirty years. And really, so what if you ate it because the Internet told you to?
The New York Times: Not all restaurateurs from elsewhere can make it in NYC, but the Philly-based Stephen Starr exploded in the city's notoriously tough scene. Here's how he did it, and it includes a photo of him hanging with ?uestlove, which, cool.
Have a tip we should know? tips@mediaite.com