LIST: How to Cover Your Ass If You Haven't Started Preparing Your Turkey Yet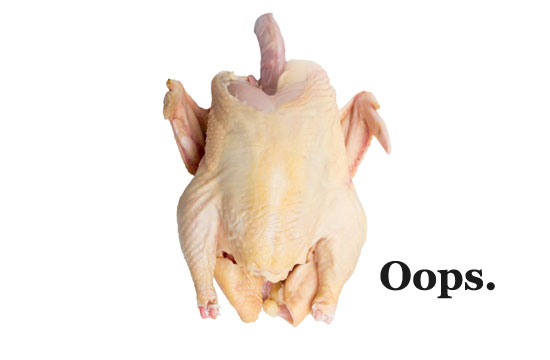 Now is the time when you should really, really start thinking about how you're going to cook your turkey. Like, literally. Right now. It's just more than 48 hours before you're expected to serve a beautiful, burnished, chestnut-brown turkey to your entire, judgmental family, and you are not a fan of their judging ways, but you married into that family and you have to keep this tenuous, delicate peace alive for the sake of you fragile marriage. And all of the recipes you're finding, written by people who Know These Things, are saying that you should have started prepping your turkey days ago, but you didn't, because you're terrible. Are you panicking yet? We know you are.
SO CALM DOWN BECAUSE WE ARE HERE TO HELP YOU.
Please get down off your office building ledge. Are you okay? Have some bacon pancakes. Deep breaths. We took the liberty of combing through all of the celebrity chef recipes we've cooked over the years, and putting together some guidelines, patches, and shortcuts to getting your turkey act together in time for tomorrow.
WHAT IF MY TURKEY IS FROZEN LIKE A BLOCK OF ICE?!
If your turkey is perfectly thawed out and unfrozen, you might be able to get away with doing an overnight brine, as plenty of recipes out there suggest. If not, well, you gotta get that turkey thawed ASAP — which is going to be hard to do overnight if your bird is more than 12 pounds. The quickest way to do it is to submerge your (still-wrapped) bird in ice-cold water, changing it out every 30 minutes. According to How Stuff Works, an 8-to-12 pound turkey will take between 4 to 6 hours to defrost, while a 20-t0-24 pound turkey will take between 10 to 12 hours to thaw.
CAN I BRINE ANYWAYS?
It should go without saying that at this point in the game, brining is out of the question, unless you're willing to make a bathtub of ice-cold brine and change it out every half-hour.
BRINELESS RECIPES: These recipes do not require that a turkey luxuriate in a brine bath for hours, get scrubbed down with salt for days, or sit in a stasis chamber for weeks. You could literally pop this in the oven for a few hours and call it a day. While we will remind you, once again, that Prior Planning Prevents Poor Performance (thanks, Mrs. Marianelli), sometimes you gotta slap something together. This is how you do it.
Rachael Ray's Two Small Turkeys (Warning: It really feeds 20.)
Bobby Flay's Pioneer-Style Herb Roasted Turkey
Doug Katz's Roasted/Braised Turkey
Michael Ruhlman's Grilled Spatchcocked Turkey
Ina Garten's Perfect Roast Turkey 
TAKE THE EASY WAY OUT WITH TURKEY BREASTS: There is really no shame in making turkey breasts for Thanksgiving, unless everyone else in your family is obsessed with seeing the entire bird in one piece, paraded around like a religious icon painted by Norman Rockwell. Flip them another bird and then just put these in front of them. Your family will eventually forgive you.
Andrew Zimmern's Boneless Stuffed Turkey Breast (Plus Dressing)
Mario Batali's Turkey Breast Stuffed with Chestnuts and Prunes
Thomas Keller's Mayonnaise-Roasted Turkey Breast
PRETEND TO HAVE RECENTLY CONVERTED TO VEGANISM: We secretly think that newly-minted vegan Al Gore made this choice as a way to spare his family from cooking a turkey this year. Sure, you might make your relatives hate you for springing Surprise Tofurkey on them, but if that's a better option than making a subpar turkey, well…you really need to re-evaluate your life.
While you do that, here are some New York Times-approved vegetarian Thanksgiving recipes to cover your ass.
GET SOMEONE TO DELIVER A COOKED TURKEY: This will require some searching, finagling, begging, and maybe the promise of sexual favors to various caterers in your area, depending on if they're able to fit you in at the last minute. But it might allow you to retain your external pride and the approval of your family. (On the inside, of course, you are dying.)
GET A PRE-COOKED HAM, LIKE A CHUMP: This is how my family did Thanksgiving for years. It explains everything, doesn't it?
Note: This article has been updated from 2013.
RELATED:
Turkey Or Bust: Chefs Reveal Their Thanksgiving Dealbreakers
Turkey Day Apocalypse: The Absolute WORST Thanksgiving Food Hybrids of All Time
"Don't Worry About Anything, Because There's a Hamster Eating Thanksgiving Dinner
Have a tip we should know? tips@mediaite.com