WATCH: Mario Batali and Michael Symon Grace the Cover of Parade Magazine's Super Bowl Issue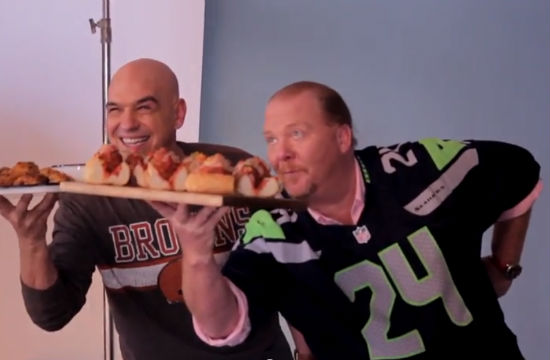 Mario Batali and Michael Symon were the picture of easy breezy beautiful covergirls for this week's Super Bowl edition of Parade Magazine. The Iron Chefs and The Chew co-hosts are fairly respectable fans of American Football (except for the part where Mario likes both The Giants and The Jets), and along with sharing their Super Bowl culinary game plans, they attempted to explain in their cover story the cultural phenomenon around large men concussing each other for sport.
Mario, I would have pegged you as a European football fan.
MB: I am, but the problem with European football: Only one 15-minute period to eat! [American] football is created around American leisure.

MS: And it's the one sport where one year your team could be not any good and the next year they could be in the playoffs.

MB: It's less dynastic.

MS: That's the beauty of football. I have people over to watch the game every Sunday.

Do team loyalties ever strain your friendship?
MB: Well, if his teams were any good …

MS: Yeah, the Browns are terrible.

MB: This is Seattle's year, so let's see what happens.

Either of you have football dreams as a kid?
MB: Who didn't?

MS: I had an uncle that played pro football, which made me want to. Then I realized I wasn't going to grow, so I wrestled instead.
Check out a behind the scenes video from their cover shoot below and read the coverstory here.
[Parade]
Have a tip we should know? tips@mediaite.com