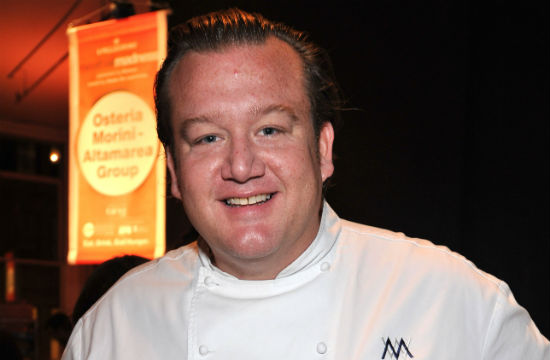 At last night's Esquire Magazine-hosted Hurricane Sandy fundraiser dinner (dubbed, appropriately, The Esquire), we caught up with nine-Michelin starred, juice cleanse-ditching, "Midwestern pizza"-shilling Chef Michael White of Marea, Ai Fiori, and 2012 New York Wine and Food Festival Burger Bash-winning fame to chat about everything from his recent catering of the low-pressure, no-big-deal Anthony Bourdain Roast, to his visit from K-Pop sensaish Psy. Lessons learned: Michael White really, really, really cares about his staff. Go work for Michael White right now.
The Braiser: You recently catered the Roast of Anthony Bourdain at the New York Wine and Food Festival. How was that?
That was a lot of fun! Listen, you know, cooking for all types that are in the food business is always fun to do, and it's great for the staff — for my staff to be able to cook and to come to a place such as Chelsea Piers and throw an evening which consists of Marea and all the restaurants together. It's a lot of fun [for me]. It's fun for the staff, too, the team.
Can you tell us about your recent visit from Psy? Was there dancing? Neon lights? Fog machines? We invented an elaborate fantasy version of events, but we'd love to hear what actually happened.
No dancing, except for my dancing. I have two young people who went to the Culinary Institute of America from Seoul, South Korea, who now are doing an externship at Ai Fiori, so I brought them out and we talked [to Psy], and so on and so forth. It was a lot of fun for them. You know, it's always fun when someone comes into the restaurant especially for my daughter, somebody like Psy, right, with "Gangnam Style."
You're automatically world's coolest dad.
Totally.
What did you make tonight for the Greatest Meal Ever Cooked?
Tonight, I happen to be doing the sea scallop course, with butternut squash caponata, and black truffle vinaigrette. There's a lot of food here, I don't know if you've looked at the menu. This [The Bowery Hotel] is one of the coolest spots and the outdoor space is unbelievable here. We all wish we had an outdoor space like this here.
Tell us about your other projects in the pipeline right now.
On 86th Street is our new restaurant, which is going to be called Ristorante Morini, which is going to be in the old Centolire space on 86th and Madison. And The Butterfly. And that's plenty right now. Plenty, plenty. And then we have a Washington, D.C. Osteria Morini opening up next year there as well. Never a dull moment.
[This interview has been edited and condensed.]
Have a tip we should know? tips@mediaite.com