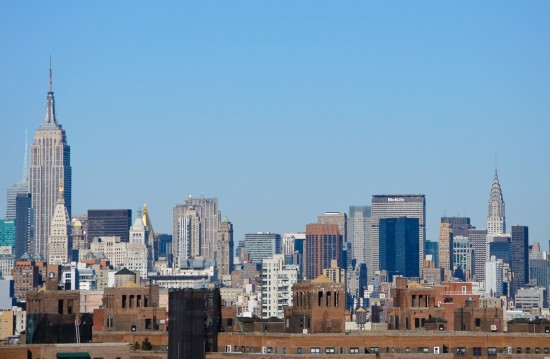 Last week I was lucky enough to be able to attend a party to celebrate Food & Wine Best New Chefs 2016. It was awesome. If you have the opportunity to get to this party one year, do it. The crowd is happy and cool, the food is top notch, and they're pouring wine like it's going out of style. This year's guest list was pretty epically exciting too. We saw Tom Colicchio and Geoffrey Zakarian walking around. Of course, Nilou Motamed, the new Editor in Chief of Food & Wine was there. Signature dishes were made at different stations by Lauren Tourondel of L'Amico, George Mendes of Lupulo, Missy Robbins of Lilia, Bryce Shuman of Betony, and Jeremy Ford, the winner of the most recent season of Top Chef.
The names on the list are incredibly exciting. The restaurants on the list for the most part are. Missy Robbins was the name that jumped out at me the most. Lilia is probably the hottest spot currently in any of the five boroughs. Pete Wells gave her an outstanding write-up. We already know that she's President Barack Obama's favorite chef. I've been to Lilia, and the rest of the places are on my list. Except Betony.
Am I serious? Yep. But, it has three stars in the New York Times, and countless other positive reviews. I know. But it's been around forever, and it's big. Plus, it's in Midtown.
I didn't have a bad bite of food at the event; literally everything was delicious. But Bryce Shuman's chinese sausage taco served on a red cabbage shell was the best thing I ate. It was delicious, beautiful in color, innovative, and fresh. I realized, "holy sh*t! I've been missing out on Betony!" I got to work the next day and was humble bragging to friends about my evening "yeah it was a work event," and things like that. Of course, I asked them if they'd been to Betony. None had.
There's a shift away from fine dining that the public is pushing hard for. You want to make a steakhouse? You'd better make sure it looks like something else. Fast-casual spots and neighborhood holes-in-the wall are where everyone wants to be, and while those restaurants certainly have their places, Midtown has a place too, and we should start going back to it.
Midtown restaurants can be expensive, true, but you know where restaurants are also expensive? Downtown. Don't pretend Quality Eats isn't a pricey steakhouse just because it's in the West Village. Don't scoff at Midtown prices, but say you're "dying to go to " Sushi Nakazawa.
Lots of Midtown have been around forever, too. There's always something to be said for experience, and the restaurant industry is one of the only ones where it's not rewarded. Everyone wants to go to only the newest places from the newest kids on the block. I'm guilty of it, too. If a restaurant has been on my list for more than six months, chances are I'm not getting there. Has the food changed? Probably not. But something shinier has caught my eye. The statistic is that something like 60% of restaurants go under in their first year, and 80% don't make it five years. Doesn't it say something when a place like The Lambs Club has been around for six?
Regardless of the location, Geoffrey Zakarian is an excellent chef, whose restaurant tends to get dismissed as a "corporate card place." He defended his neighborhood in an interview with The Wall Street Journal this past November. When asked what neighborhood he thought had the best restaurants, he said, "I think Midtown is strangely underrated. It's always been where I have all my restaurants, but a lot of people are migrating to Midtown because there's a lunch crowd here."
And, when asked what restaurants he likes for celebrating:
I love going to Polo, Ralph Lauren's new restaurant. I think it's great. It's so civilized. I love Bond Street downtown. I think it's a really fun restaurant. Friends come to New York, I take them there. I love Felidia, which is a small restaurant by Lidia Bastianich on 58th Street. It's a beautiful little gem in a townhouse. I go to Balthazar because I love to drink the joy of that room in. It makes me feel good.
That's not to say that other restaurants don't have their places. We love the popular downtown places. We love waiting two hours to eat a burger in a cramped space. Really. But there's something, as Zakarian puts it, so civilized about Midtown dining. And what's so wrong with that?
Next birthday, I'm going to Betony. Who's in?
Have a tip we should know? tips@mediaite.com