Part 1 Of Our Interview With Andrew Zimmern: Tim Pawlenty Is 'So Socially Awkward'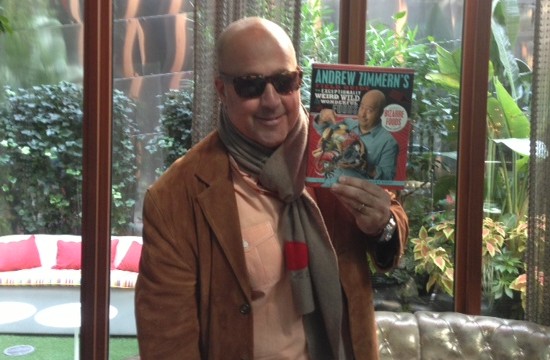 Sometimes, you find yourself nodding along to everything that Andrew Zimmern says, wanting to hear more about his incredibly interesting life, informed by years of travel and eating, as well as being one of the most empathetic personalities in the food world. Then suddenly you realize: you have enough material for two interviews.  And you've only spoken for twenty minutes.
This is part one of that conversation.
So you've already had a full day of the Wine And Food Festival and you have a whole day to go. What are you looking forward to?
I do have a whole day to go. The one issue at these events is that for whatever reason, at South Beach and New York, the one thing I've done in the past couple years is the closing party, which means I can't be sleep-drunk on the last day. I don't drink, but if you go without sleep for a long period of time, you just end up being completely ill-prepared to deal with the day itself. So I tried to spend some down time last night to conserve my energy, and I ended up staying out until three in the morning. I just hope that I show up at my event at four o'clock in one piece. Signs point to yes.
(A waiter comes over and asks if Zimmern would like one out of a large variety of bottled waters. He goes with tap.)
He so wants me to order something. I just know he does. I'm just like, "I'm sorry, my friend."
You sure you don't want anything?
We just came from brunch — literally just walked over from the Sullivan Street Bakery. Great stuff. Have you had their new dinner thing?
They have dinner?!
Brand new. They are now opening dinner. They've only been open three days. They started with one item, roast chicken, now they're throwing in brisket, and they hope to have four or five. We tried a bunch of sandwiches that they made with their brisket. It's fantastic.
How are you going to hold your own on the Travel Channel now that your BFF Anthony Bourdain is gone?
Oh my gosh, it feels lonely! It's like being the last palm tree on the island. I hope the winds stay favorable. I'm really glad that Tony is at CNN, because as a fan of his, I want to see him do longer, bigger stories in the crazy places where most of us will never get to go to. I like the idea of him on CNN. I also like the idea of him doing a commercial cooking competition show on ABC. I saw on his phone, the other day; he showed me some little sneak peeks and filled me in on what's going on with The Taste, the show that he and Nigella [Lawson] are doing. It sounds fantastic. I cannot wait to watch it.
It sounds a little demented, too. I saw their trailers from the set.
That was pretty unbelievable. [Tony and I] had dinner last Monday, and he showed me the progression from when the trailer got delivered, until the day the sets were struck. And they just kept decorating every single night. Nigella went pretty balls-to-the-wall on it.
And Tony's just looked like a meth lab.
Yeah, that was his goal. I believe that was what he was shooting for, no pun intended. But it sounds like it's going to be a really good show, and Ludo Lefebvre, who's a great, great personality, apparently really gets to shine there. And the three of them all picked on Brian Malarkey.
Wait, he's on the show?
Yeah, he's one of the four judges! And that's what everyone's reaction is: "He's on the show?!" I think what happens when you have superhero groups, is that all four people fall into one role. There's The Good Girl. There's the Misunderstood Guy. There's the Reliable One. And then there's the Wild Card, and their Wild Card was Brian Malarkey. On a judging competition show, the judges needed someone to pick on, and that someone was Brian Malarkey. On Top Chef, the first year or two, that was Ted Allen's job.
Right, back then he was "that gay guy from that gay show."
Ted, when he got his own vehicle, got a chance to shine. But it was always awkward watching him on Top Chef. I can't wait to see the Brian Malarkey element on The Taste. It's one of those things like, "One of these people is not like the other." Rumors swirl that he arrived on set with his own makeup person. I can neither confirm nor deny these rumors.
The fact of the matter is that people come and go on television all the time. No Rerservations and The Layover will live on The Travel Channel for a thousand years, you know, and I think Tony will still "be" there. We've also got some cool stuff coming up on Travel Channel this year, and hopefully they've got some hit shows in there that can replace, timewise, No Reservations. I don't think there's any replacing Tony.
I'm a little biased, he's a friend of mine, but he's not just one of the most insightful and brilliant people in the food and travel space; in the cultural firmament of our art scene, he is a brilliant man — publisher, artist, music fiend — this guy is really, really visionary. You look at that Get Jiro! comic book and some of his side projects — the David Chang documentary that is coming to PBS, that's coming out very soon — Tony's a brilliant guy.
One of the things that the two of you did really recently was the Capitol Food Fight. We loved how you auctioned off the opportunity to hand-feed people iguana meat for $1000 a pop. Whose idea was that, and while you were feeding them, did you feel like a mom feeding a baby, or like some sort of sick prostitute?
Oh god, I'd always like to be a sick prostitute. That sounds like a lot of fun. Here's the deal: we're trying to raise as much money as we possibly could for the DC Central Kitchen. The problem as we were auctioning off items, is that people were not bidding what they would in other cities. The audience that night was having trouble opening their wallets. So we were trying to figure out a way, between all of us — Padma Lakshmi, Tony, myself, and Jose Andres — to generate more dollars. We were selling the California package, and Tony said, "I'll throw in dinner at my favorite restaurant," to try and sweeten the pot and get people to bid more. That wasn't working very well. It's an election year, nobody there wants to be seen throwing their money around.
We finally had a few really good ideas. Tasting the food that Tony and I cooked in our Iron Chef battle: we got six or eight people to spend $1000 to take a bite. That was good, but it paled in comparison to the awkwardness when we auctioned off the opportunity to eat a piece of Fermin Iberico ham off of Padma's collarbone. Now, every single guy in the audience started salivating. No one had the balls to raise their hand, except one guy, who said "I'll do it." I told the guy on stage, "Bravo, young man. You're the object of everyone's desire. You did very well."
Speaking of Washington, have you ever gotten an apology from your maybe-friend [Fmr. Minnesota Governor] Tim Pawlenty?
I have not. And I think it speaks to Tim's awkwardness. There's a little bit of backstory to this. I've known Tim for about 15 years, and he's on the other side of the aisle, but Minnesota is a very small and insular place. I know him, I know his wife, and he's guested on my local show, and I on theirs; we have a lot of mutual friends in common, and I see him once a month on an airplane, because he's been flying around the country for the last year and a half, [campaigning for Romney]. I think in an effort to be really nice to me [during the 2012 Republican National Convention], he chose not to use my name. But he's so socially awkward and so uncomfortable in front of large audiences, obviously telling jokes — I think he just blew the whole thing and blew the joke. I was extremely flattered. Who wouldn't want to be linked to a joke at the Republican National Convention with the President of the United States's work ethic?
Clint Eastwood?
Yeah, maybe. Here's the thing: I'll tell you what happens when I see Tim the next time and give you the follow-up, because it would be very interesting to see how that all goes down. I gotta ask him right away, "Dude, what were you thinking?!" He knows that I'm a left wing, Lindsay liberal of the highest order. I can't understand why anyone would think that the hardest working person in the world isn't the President of the United States. Doesn't matter what party they're from. That's a full time job and a half.
So your schedule is really that bad?
If I choose to. I have to learn not to work. 'Cause there's always something to do. There's always a book to work on, there's always calls to make, there's always emails to respond to. I suffer from workaholism, just like everybody else in my industry does. Nobody has it easy. It's hard to get to a certain place in your career, and it's even harder to stay there.
Part Two of our interview with Andrew Zimmern, in which he delivers a dissertation defense on America, will be published tomorrow.
Have a tip we should know? tips@mediaite.com