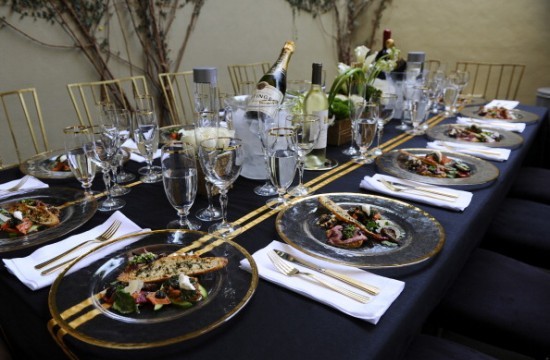 A few days ago, NYT critic Pete Wells lamented that the tasting menu, popularized by renowned and exceptional (read: expensive) restaurants, had become less of a meal and more of a grueling process, declaring that it had become an "epidemic." Not that he thought it needed to disappear altogether — in the hands of the right chef, he believed, the prospect turned into an "imminent adventure" — but that too many chef had decided to use it as a shortcut for glowing reviews from critics.
He expected people to decry him, but today, he wrote a blog post on Diner's Journal marveling that — surprise! — he wasn't the only one exhausted by fixed-course tasting menus.
"I feel less alone after scanning Twitter, where a number of people simply wrote 'Amen,' or 'Amen, brother,' and reader comments on the article, and e-mails from food writers who admitted that they, too, had often felt trapped when eating evening-long meals chosen by the chef," he wrote.
"I have the feeling that this exposes a divide between people who love restaurants and the chefs who have come to think of the tasting menu as the highest form of their craft."
While tasting menus are still only served by a scant handful of restaurants, the fact that this handful consists of the most prominent restaurants in the country — Alinea, The French Laundry, and Eleven Madison Park, for instance — makes the tasting menu more likely to become a Big Trend.
The Twitter outcry he heard yesterday, though, gave him hope that restaurants would find it more cost-effective to serve normal menus. Because of this, he surmised, "the chefs may want to give some thought to all those diners who would love a chance to experience their cuisine if it didn't require signing on for an expensive, time-consuming, all-or-nothing extravaganza."
[NYT]
Have a tip we should know? tips@mediaite.com