Pete Wells Burns Giada de Laurentiis' New Las Vegas Restaurant, Has Thoughts on Vegas Dining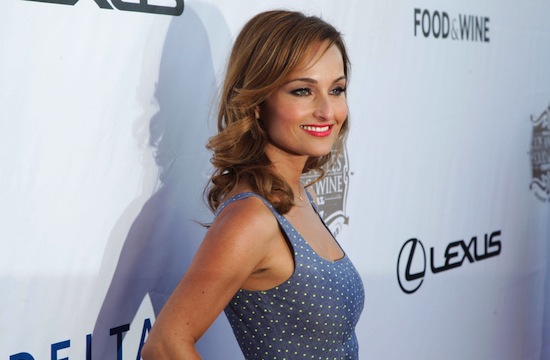 After skewering Giada (the restaurant, not the person), Pete Wells went on a Twitter rant of all Twitter rants to share his opinions on Las Vegas dining — and defend Guy Fieri a little?
But first, the review: He not only blasts the food at Giada, but also de Laurentiis for creating a "museum of herself" rather than a welcoming, "feels-like-home" kind of restaurant. From the review:
The board of flatbread and grissini is announced as "Giada's bread selection," and the plate of thumbprint and "mega-chip" cookies is "Giada's cookie selection." "Giada" is stenciled on a large pink canvas that hangs on a wall. Her words, familiar to her television audience, are even repeated in six chandeliers around the dining room, cut out in silhouette so that light beams from behind: "I eat a little bit of Everything and not a lot of Anything."

As a quotation for posterity, this is not exactly "Et tu, Brute?" But it may describe Ms. De Laurentiis's philosophy for the food at Giada. All of it is in a relaxed, approachable California-Italian mode, and none of it is very hard to leave on the plate.
A "flaccid" buccatini makes an appearance, as well as not-great chicken cacciatore and a "margherita pizzette" that "might have come from the children's menu of any restaurant in America except an Italian one."
Oh, burn. So where exactly does Wells like to eat when partying on the Strip?
Most of the restaurants I enjoyed most in Vegas this time weren't on the Strip. They were small & home-grown. http://t.co/AuiAkv8F1K

— Pete Wells (@pete_wells) August 12, 2014
Oh, so not on the Strip at all. But!
As for Guy Fieri's Vegas Kitchen & Bar, it's easily twice as good as his restaurant in Times Square.

— Pete Wells (@pete_wells) August 12, 2014
That's a compliment in the most Pete Wells way possible.
On the Strip, I had startlingly good food at 3 @chefjoseandres joints: Jaleo, é & China Poblano, which is really 2 great rests in 1.

— Pete Wells (@pete_wells) August 12, 2014
In NYC I have despaired of great cheffed-up tacos, but China Poblano nails them. Dim summery very fine too.

— Pete Wells (@pete_wells) August 12, 2014
And while I'm on Las Vegas: Raku and its chef, Mitsuo Endo, deserve to be way more famous than they already are.

— Pete Wells (@pete_wells) August 12, 2014
The more you know.
RELATED: Pete Wells Uncovers How Hospitality Is Like an S&M Dungeon in Grindhaus Review
Pete Wells Follows Suit with Zero-Star NYT Review of Tavern on the Green
Have a tip we should know? tips@mediaite.com