WATCH: Robert Irvine and Michelle Obama Feed Kids And Bike With Water Pumps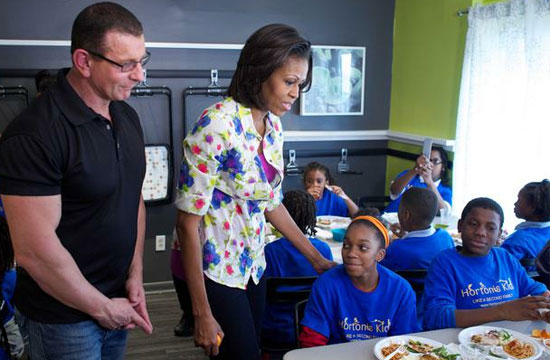 Michelle Obama may not be able to launch the nuclear missiles as First Lady, but that's okay, because she can ask Robert Irvine to pull off the most complicated Restaurant: Impossible yet: build a dining room, renovate the kitchen, and plant a garden for the children of Horton's Kids community center in Washington, DC in two days and on a $10,000 budget.
So Irvine straps on his booming British accent and gets to work, smashing walls between the community center and the abandoned apartment next door, meeting Sam Kass to learn about gardening with children, and realizing that he's working with kids who think chocolate milk grows in the ground:
This will not do, so Irvine calls up his friend Farmer Lee to build a garden that doesn't look like a bad children's book. Farmer Lee gets to work with his coveralls and adorable red bandana, building garden beds, greenhouse frames, and a contraption that rolls two of Michelle Obama's policy initiatives into one ridiculous-looking machine that we maybe kind of want:
After issues with a water pipe bursting, kids who are freaked out by vegetables but are won over, and contractors begging Robert to please not hit the wall with that sledgehammer so vigorously, everything magically comes together with the power of television: Horton's Kids now boasts an enormous kitchen with a full pantry, a huge dining room allowing kids to eat indoors, and a brand-spanking new computer center.
Oh, and that garden!  What do you think about the bike, Michelle Obama?
Have a tip we should know? tips@mediaite.com