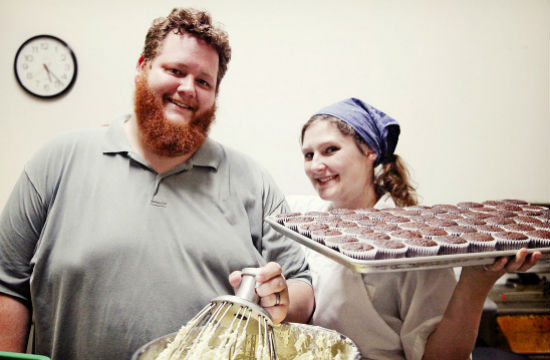 Image via Robicelli's
Where the fuck is Bay Ridge, you might be asking yourself, and can I gentrify it with my ironic charms? As Allison Robicelli so artfully puts it, it's located at "the ass end of the R train," in a part of Brooklyn with "only one artisanal wine bar and a startling lack of haberdasheries." So, no. No you cannot.
But whyyyy, you might be asking yourself (or the universe), would your favorite cult-darling wholesale cupcakery (which also sells whoopie pies and pound cake and brownies and hot cocoa) finallyfinallyfinally open a brick-and-mortar, only for it to be SO FAR AWAY from you?
Because they hate you and don't want you to have nice things. No, not for real, and yes, that is a line lifted from their forthcoming cookbook Robicelli's: A Love Story, With Cupcakes, which you should definitely invest in if you're too lazy to schlep to Bay Ridge.
The actual reason, children, is because Allison and Matt both grew up in Bay Ridge, fell in love there, are raising their two sons there, and want to give back to the community that spat out their many, many blessings. Reads the announcement:
"If you've followed us for a long time, then you know our goal has always been to cook amazing food for the Average Joe, to make sure that class has nothing to do with the way a chef treats you, and to put the same hard work into something a union laborer would eat that we would for a billionaire.

That's our nest chapter. To keep cooking for everyone but especially the little guy. To put good things back into our community, and to keep doing that for all the working class neighborhoods we've always loudly stood up for. To remind people that there's beautiful things happening in all parts of Brooklyn and much of it has come from people who have always called it home."
So charge your tablets, download the latest copy of The New Yorker, or whatever piece of pop lit you're three years behind on (is anyone still reading Freedom, because we really, really wanna talk about Patty!) and settle in for a journey on the Orient Express. By which we mean R train. Oh, but that's a good idea, you could pretend someone has been murdered on the train and start solving mysteries with your fellow passengers. Actually, no, just read. Reading is better.
You can learn all about the bakery opening in Robicelli's official press release, which is really a blog post written by Allison on the company Tumblr. It's so much warmer than a conventional press release: there are photos of their adorable kids and a primo cleavage shot!
Have a tip we should know? [email protected]