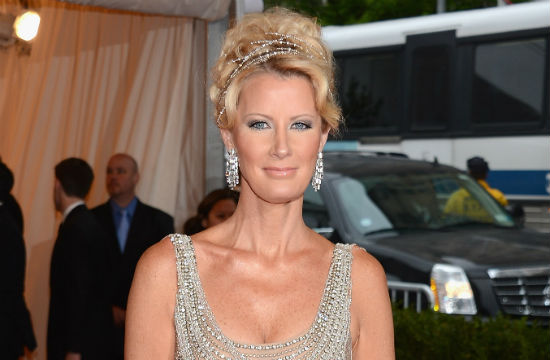 It's really easy to hate on Sandra Lee. As the host of Food Network's Semi-Homemade Cooking, she basically teaches her fanbase how to put together a mix of processed foods and fresh ingredients in order to make a meal with minimal cooking. She also made a disgusting and relatively offensive Kwanzaa cake ten years ago that the likes of Anthony Bourdain are still laughing about, so… yeah.
(Oh, and we forgot tablescapes. On Semi-Homemade, Sandra decorates her dining tables with themed crafts called "tablescapes" that are semi-meant to semi-match the semi-meal you're semi-cooking.)
However. Sandra Lee is also a great example of how to overcome adversity. A brief and reductive back-story: Sandra and her sister were left by their mother when they were just toddlers, and went to live with her paternal grandmother. Then, when Sandra was six, her mom remarried and took them back in with her new husband, only to have three more children, get divorced again, and slip into a depression so deep that she was bedridden, leaving an emotionally and physically abused 11-year-old Sandra to take care of the family as the oldest child.
She had to make food stamps and welfare checks stretch to feed six people, and, so, out of the most tragic of circumstances, the Semi-Homemade concept was born.
Of course, in addition to being a Food Network stalwart, she's also the extremely poised, beautiful girlfriend of New York Governor Andrew Cuomo. She's now both the cool Aunt Sandy to a slew of nieces and nephews (she once compared herself and her siblings to Party of Five, a reference this '90s kid all too readily identifies with), and caretaker to her "Semi-Homemade Daughters," (ie., Cuomo's three children from his first marriage).
Sandra's using her First Ladylove platform to throw the charity she has long-since worked with, Share Our Strength, into the spotlight. The organization works with food banks around the country helping to feed needy kids, a crusade we're sure hits Sandra painfully close to home. She has now made several official New York Food Bank appearances as The Governor's Girlfriend.
Let the record show: before I knew all of this, I was coaching myself on how to stifle my smirk throughout my upcoming interview with Miss Lee at House Beautiful Magazine's Kitchen of the Year event. But, as it turns out, I didn't need any of it.
After reading up on her extensively, realizing what a surprisingly good partner she made for a love-scorned political figurehead, and, finally, chatting with her myself, I've gotta say, I might have joined the dark side. When I asked her who she'd cook her dream meal for (and what the tablescape would be, natch), her answer elicited a full-on, gleeful belly-laugh.
I think this is the story of how Sandra Lee made my heart grow three sizes.
The Braiser: First of all, congratulations on your Daytime Emmy. What does it feel like winning Outstanding Host of a Culinary/Lifestyle Series over the likes of Paula Deen and Giada De Laurentiis?
Sandra Lee: Well, they're my sisters and we've all been on The Network together, so it was really nice. They're amazing hostesses themselves, so it's an honor. It's always nice to be with my sisters.
Who's your culinary icon?
(At this point, Sandra's face becomes serene, her sharp, icy blue stare softens, and her body relaxes, as if she's just slipped into a fluffy white robe. She wistfully replies:) Julia.
If you could cook your best meal for anyone in the world, who would it be, and what would the tablescape theme be?
Cher, and it would be Halloween. Of course it would be Halloween.
A lot of people criticize the Semi-Homemade Cooking style and don't really realize how and why your upbringing shaped your culinary point of view. And you maintain that you're keeping it real by cooking the way Middle America can afford to and has the time for right now. But there must be some happy medium between pushing processed foods on an obesity-ridden country and advocating, you say unrealistically, for fresh, organic, frequently expensive ingredients that are time-consuming to prepare. Do you wish there was another option, or do you feel stuck pandering to Middle America by showing them to make the most out of what they've got?
In my new show that goes up on Food Network mid-October — it's called Restaurant Remakes — I visit restaurants and I remake the food at home, and what I do is I buy the things at the grocery store and I lay them out on the counter and I say, "Here are your options and this is what they look like. This is what you can do and why I think this is best. But, if you like this, then it's great, and if you like that, then it's great."
To what do you attribute your "celebrity chef" status, if you do, in fact, think of yourself as one?
I don't even think about it. Twenty seasons, all you do is keep working. You just keep working, and you're happy to be in the room.
Have a tip we should know? tips@mediaite.com