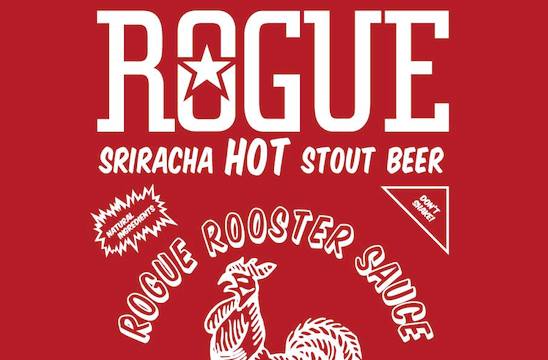 A flow chart to help you decide on such important matters.
Because no one can get enough of Sriracha, and we mean no one, everyone is freaking out about a new Sriracha-infused beer that will be on shelves next month. Is this peak Sriracha? Can we get on board with a Sriracha beer? We assume you have questions like we do, and so we will unpack this together.
Who would make such a beer?
That would be Rogue Ales, based in Portland, Ore.
Why would they make such a beer?
Well, the brewery is known for wacky beers. Take the Old Crustacean Barleywine, or the Voodoo Doughnut Maple Bacon Ale, or Beard Beer. (That's a beer made with yeast grown in the brewmaster's beer. Do you see where we're going here?) So the brewery is not only used to adding weird ingredients to their beers, but also pulling an occasional stunt beer or three.
What kind of beer will it be?
It will be a stout. For those of you who don't really know what a stout tastes like (from Beer Advocate):
As mysterious as they look, stouts are typically dark brown to pitch black in color. A common profile amongst Stouts, but not in all cases, is the use of roasted barley (unmalted barley that is kilned to the point of being charred) which lends a dry character to the beer as well as a huge roasted flavor that can range from burnt to coffee to chocolate. A different balance of hops is up to the brewers preference, but the roasted character must be there.
Seriously?
Yes.
Will it taste like someone poured Sriracha into my beer?
According to some early commenters on Facebook, yes.
Will it taste good?
Some say yes. From Facebook:
Had this at the brewery a few months ago. Brought home a growler of it, too. I was hoping and praying that you would bottle it eventually. All you naysayers don't know what you're missing, but that's okay. More for me.
But really?
Well, OK, some people aren't fans.
This was the very first, and I've been loving Rogue for almost 10 years, brew that I absolutely couldn't take a second sip of. Love sriracha, love Rogue stouts, do no love the combination.
Will I be giving in to some serious marketing ploys if I drink this Sriracha stout?
Yes.
Should I be ashamed of myself?
Only a little.
[Beer Street Journal, Rogue Ales, Beer Advocate, Facebook]
RELATED: WATCH: Sriracha Supporters Protest Attempts to Close Huy Fong Factory
Sriracha to Return to Store Shelves (Yay!), May Move Production to Texas (Yay?)
Last Call: Andrew Zimmern and Justin Warner Debate Sriracha
Have a tip we should know? [email protected]