Starbucks Viral Holiday Campaign Horribly Backfires As Users Demand Coffee Giant 'Pay Their F**king Tax'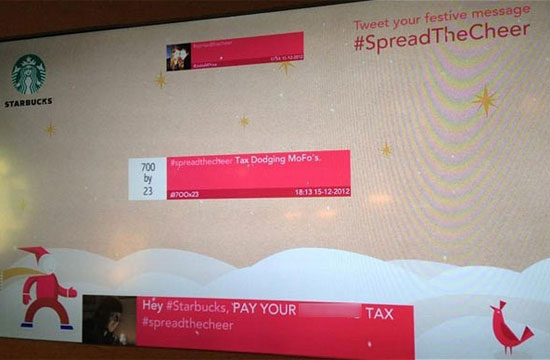 There should be a new PR handbook in which the rule "never run a social media campaign when you're embroiled in controversy" is written in big, red letters, and every time someone even thinks about violating said rule, the handbook turns into a robot hand and then slaps them in the face.
We have no idea what compelled Starbucks' social media team to run a holiday Twitter campaign while under public scrutiny for tax evasion.
The Telegraph reports that when Starbucks UK asked its followers to tweet out holiday greetings followed by the hashtag #spreadthecheer, which were then publicly broadcast onto a big screen at the Natural History Museum's skating rink, it definitely did not receive the happy tweets about family and snow and Santas and Hanukkah things it hoped it would. Instead, people used the hashtag to slam the company for only paying £8.5 million in corporate taxes since it launched in Britain, despite overall sales of £3 billion.
And, of course, Starbucks totally forgot to filter the tweets, so all the profane ones got through, such as:
I will never buy coffee from tax dodging Starbucks again personally. RT and #SpreadtheCheer

— Saggydaddy (@Saggydaddy) December 16, 2012
Starbucks should stop avoiding tax, depriving their staff, and start selling coffee that isn't burnt! #spreadthecheer

— Kabarett Spielraum (@spielraum) December 16, 2012
Hey #Starbucks, PAY YOUR FUCKING TAX #spreadthecheer

— Andy (@VexedVeloist) December 15, 2012
And so forth. A spokesperson for Starbucks blamed the publicly-displayed profanity on a " temporary malfunction with the content filtering system," but that's yet to stop people from tweeting about Starbucks' tax evasion schemes — or worse, media outlets reporting on their PR screw-up with rapacious glee.
[The Telegraph via The Huffington Post]
Have a tip we should know? tips@mediaite.com