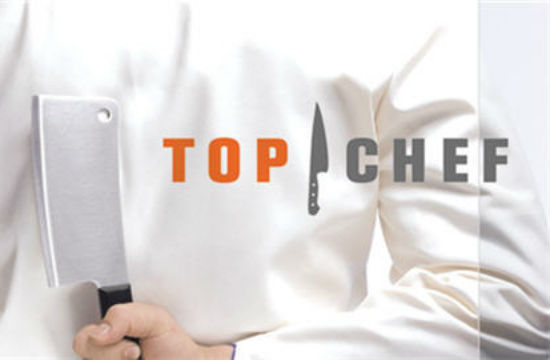 Today at the NBCUniversal upfronts, Top Chef announced yet another spinoff: Top Chef Duels, a show that essentially sewed Ilan Hall's Knife Fight with the NCAA Tournament bracket and branded it with the Top Chef logo. (We are getting tired of all the motherf***ing spinoffs of this motherf***ing show.)
In a press release, NBC described the show (previously known as Top Chef: Extreme) as a "culinary competition series" which "brings back eighteen of the biggest, boldest and most talked-about personalities from past seasons of Top Chef and Top Chef Masters." Much like Iron Chef, Knife Fight, or any other television cooking series, Duels pits two famous cheftestants in "three rounds of extreme culinary challenges," and at the end of the season, all the winners will compete against each other for the grand prize of $100,000. Many percentages of that prize will be paid in tax.
It will be hosted by…[spins Top Chef judges wheel] Curtis Stone and Gail Simmons. (Tom Colicchio seems to have decamped to another show called Best New Restaurant, produced by Gordon Ramsay, which pits restaurants against each other.)
At this point, we have:
Top Chef
Top Chef Masters
Top Chef: Just Desserts
Top Chef Juniors (thankfully aborted)
Life After Top Chef
Top Chef: Last Chance Kitchen
Top Chef: Healthy Showdown
The Top Chef holiday specials (which are actually real)
Twelve (12) international versions of Top Chef
With Duels included, we currently have 21 types of Top Chefs. 21 types of anything is good, if that "anything" is "fro-yo toppings," but this is getting absurd. Let's put it this way: at this point, there are more Top Chefs than there are years that Top Chef has existed.
RELATED:
Gail Simmons Reveals Even More Spinoffs, Laughs At Top Cheftestants Locked In Hotels
Top Chef Announces The Return Of Last Chance Kitchen
Bravo Teams Up with Kitchit to Pimp Out Former Top Chef-testants
Have a tip we should know? tips@mediaite.com