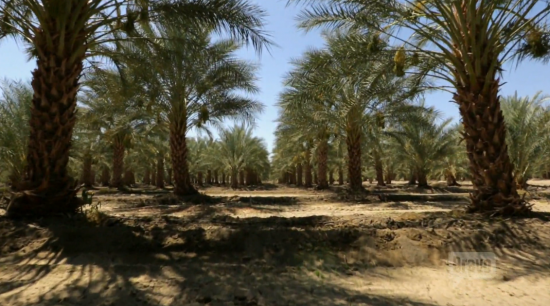 We're back! Happy New Year. Let's get to it.
I can't decide who needs to leave first, Angelina or Philip. Marjorie keeps talking about how great Angelina is and I honestly don't get it. Everything she cooks pretty much sucks. But, she's been in the bottom on pretty much every challenge and hasn't left yet so maybe there's something we're not seeing. The cheftestants drive to a date farm in the Coachella Valley and I'm surprised Philip isn't talking about how he feels comfortable there because his wife once made dessert at Coachella. Isaac likes the machete too much.
Four minutes into the episode, we FINALLY get to Chrissy Teigen. The quickfire challenge is for the cheftestants to tell the story of the greatest date they've ever had, using the date. Carl starts talking about how two days before he was supposed to go to the ballet with who I assume is his wife, and he had to get his tonsils out, so they had a milkshake at home. Please note that I said tonsils. This becomes a great mystery.
Everyone's stories are pretty nice, with the exception of Wesley, who says he and his wife like to eat cheese together, despite his lactose intolerance. EEK. Giselle is, surprise, frantic having trouble, and it's pissing Jeremy off. Carl's best dates are the ones with his daughters, which is sweet. Philip continues to suck (though I wouldn't mind having a chef cook for me after hours). Angelina and Marjorie both don't date much. Kwame is sweet and cannot keep it together with Chrissy Teigen. To be fair, I can't either. Carl explains that on the date in question, he got his wisdom teeth out. Before he said tonsils. WHICH IS IT? Is he lying? Will we ever know?
Judges did not like: Chad, Philip, Carl's dishes
Judges loved: Jason, Isaac, Giselle's dishes. Giselle does well when she's on her own a lot of the time. Why is she such a basket case when she has to cook with someone else?
Winner– Jason
Chrissy leaves, and Art Smith comes on as the guest judge for the elimination challenge. He's cooked for Oprah and Obama, and has multiple James Beard awards. For the elimination challenge, the chefs will be catering a big fat gay wedding for 25 couples which will be officiated by Padma. Art Smith and his husband will be renewing their vows. Karen is celebrating her one year anniversary and is emotional. Less than ten years ago, an episode like this would be inconceivable.
Giselle and Karen are paired together, and I feel bad for Karen. Giselle once again doesn't understand anything and doesn't know what she's doing, and she also starts going off about how she's "like, the nicest person here." You know how you know someone is nice? When they have to tell you how nice they are.
For the record, Philip has definitely decided to make mashed potatoes, and Kwame has definitely decided to make a sauce, NOT a garnish.
Angelina and Jason are also having trouble. Angelina wants to get the food on the plate and cares less about the quality. Jason wants to make sure the dish is perfect before they serve it. Things like this are why Jason consistently does well.
Philip tastes his mashed potato whipped cream canister concoction and literally could not be more happy. Kwame tastes it an is incredibly disappointed. "Even if that's what you're trying to make, it's not good."
The wedding is surprisingly nice and simple for a 25-couple TV wedding.
The judges eat from the first two stations, and they really like everything. This, of course, cannot last. Jason and Angelina's dish goes over really well though, and I'm pleased.
Philip and Kwame's steak is a bummer, though they truly love Kwame's relish. Giselle and Karen's asparagus salad suffers in pretty much every way.
Round Up:
Winning Dish: Wesley & Kwame
Winner: Kwame
Bottom: Philip & Kwame, Karen & Giselle
Jason, Marjorie and Giselle all call Philip out for his conflated memory of what actually happened in the kitchen when he tries to throw Kwame under the bus and defend his weird potatoes.
Eliminated: Giselle, who, upon her exit reminds us of how nice she is.
See you guys next week! It had better be Philip's last. This whole "Philip is still here" thing is wearing thin.
Images via Screen Grab from Bravo.
Have a tip we should know? tips@mediaite.com