What Happens When the Twin Cities' League of Female Chefs Gets Excluded From Magazine Cover? They Fight Back
Twin Cities' Female Chef Community Fights Back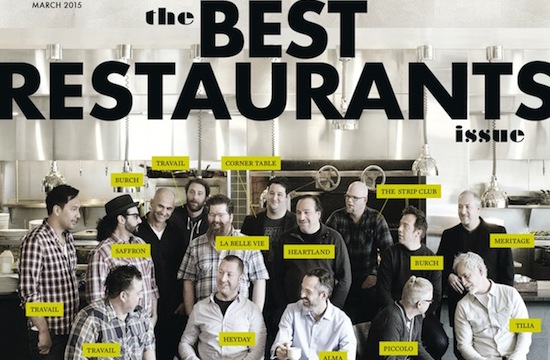 It's all becoming a giant f*ckup of "he said, she said" in the kerfluffle between the Mpls.St.Paul magazine and readers with uteruses chefs everywhere. A breakdown of what's happened:
This month, the Mpls.St.Paul magazine published its restaurant issue, including the "50 Best Restaurants" cover story. Slight problem: that cover story was advertised with a photo of the whitest, male-est chefs out there. (Seriously, no one wants to talk about the lack of diversity on that cover? Just female chefs? Got it.)
Readers and the restaurant scene rightfully took offense — in fact, it was a huge pool of the Twin Cities' lady chefs. They all signed a letter to the editor to the Star-Tribune expressing their disgust, and we love it for all its righteous anger.
Where are all the women?" We Are All Right Here!

As a group of female chefs and restaurateurs, we're moved to respond collectively.

We're outraged at the viewpoint taken by the cover and subsequent editorial comments on the March issue of Mpls St. Paul Magazine depicting the best chefs of the Twin Cities as all male. It's a false and embarrassing representation of our diverse food community. …

We take this opportunity to have a lasting impact by engaging in ongoing conversation on this topic in our community.

We pledge to hold the media accountable.

We're committed to fostering the development of our diverse and talented young food industry workers for the next generation. It takes a village.
But! The magazine's editors took the line of defense to promote a wonderfully diverse issue, and that super testosterone-cover. Wrote senior food editor Stephanie March on the magazine's blog, picking out that group of dudes wasn't so simple. Even she admitted that she had wanted to see a lady chef on that cover! But:
… It's not that simple. These chefs represented the top 12 restaurants, which were picked by vote and discussion by the whole dining team, two men and two women. It was a struggle, there was plenty of argument and shuffling, and in the end the dozen picked well-represented what we all thought was the top tier.

But here was the parameter set: Among the 50, pick the top 12 restaurants. If you have to pick the 12 best for a picture, who would you choose? Now, which female would you swap for which male, because there are only 12 spots? There are three medals at the Bocuse d'Or, only one chef walks away from the Best Chef Midwest category with a James Beard Award, you can't say "well let's just add more so we can include everyone." But people have suggested that we should have included women in the picture just to be more fair.

Quite honestly, isn't the "token" metric just as offensive as a blind eye? I happen to be female, and I think so. I hope that when you read my words you think "that Steph March is one crisp cookie" not "that Steph March is one crisp cookie, for a girl."

We judged them on their food, on their restaurant, not their religion, sexual preference, or gender.
Another writer for the magazine and contributor to the issue, Dara Moskowitz Grumdahl, echoed March's sentiment: that the cover took attention away from a female-heavy issue. On Facebook, Grumndahl responded to a reader with her "take":
Um, what part of it? The part of my take would you like? The part how the outrage willfully skips over my massive 3,000 word profile of [Lucia Watson] inside the magazine? The part about how women who I've worked with for 15 years and who all have my phone number declined to ask or tell me about this, and that Lee Svitak Dean who also has been a colleague for more than a decade didn't call for a quote, or a response? That the strategic placement of magazines for this here photo obscures our diverse covers—with a gay couple last month and an African American in December. That Kim Bartmann is the lead finger pointer, and hired two top-restaurant chef positions last year (The Third Bird) and Tiny Diner (filling that spot twice) and filled those spots with men? I have a lot of takes on this. There's also the disgusting stuff now filling the internet about how the people of color in the package have not been sufficiently excluded from majority culture so they don't count. Oh, and I've now heard I'm in real-life torrid affairs with chefs, so there's that. Incidentally, it's a great issue which captures the current restaurant scene in the Twin Cities—not the chef scene—beautifully. And if you're a woman chef running a restaurant here and you think you're not getting sufficiently covered, reach out. I'd love to meet you.
Where to fall in this argument? Are we reliving the 2013 "Gods of Food" in which TIME editor Howard Chua-Eoan was basically like, "Bitch, our cover was just how the world works!" Nah. It's absolutely fair for the editors of the Mpls.St.Paul to be pissed that their hard work for the issue is being overlooked by the Internet Rage Machine (and after reading some of those articles, like the profile of Watson, we should be giving more kudos). But let's not forget a few things of being the Media Elite (which we can only halfway pretend to be a part of, but let us spew our thoughts anyways):
First, "best of" lists are BS. And will always be. No one can pretend that a "best of" listicle has any amount of objectivity. What decides "best of" lists? The sort of clickbait you've come to love and hate. Perhaps it's City Pages' Mecca Bos who put it best (and the whole article is worth quite the read):
As a member of the food media, I will admit that we can indeed be insular and self-referential — particularly in this age of ever-quicker, shorter, "content"-driven media.
Do we field press releases and scan social media feeds and check in on all the other food sites daily before we begin our own, competitive take on the latest scoop? Yes. Do we get tired of writing about the same guys over and over again? Yes. Do readers get tired of reading about them? We have to imagine.

I will personally issue a mea culpa for my own guilt in participating in exactly this brand of snake-eating-its-tail reporting.
Add our names to that mea culpa, pretty please. (But still read all about our favorite lady chefs! Oops. We are the worst.)
Second, the media, and surely these editors, knew what was sh*tstorm was coming to them. Beyond the fact that this play HAS ALREADY BEEN PLAYED OUT BEFORE, it's sort of impossible to assume that a (nearly) all-white, all-male cover would not ruffle a few feathers with readers and readers with uteruses. But more perhaps what they didn't realize is that readers, just like, oh, anyone with tastebuds in this day and age, aren't content with the same old horse sh*t being served up on a (media) platter. Give us an all-American white-bread PBJ sandwich, and we're going to pass. Give us a banh mi, give us a Cuabano sandwich, give us anything that's a little out of the ordinary and different, and we're going all in.
The Mpls.St.Paul food editors gave us the all-American white-bread PBJ sandwich of a cover. They shouldn't be surprised when no one's biting.
[Star Tribune, Mpls.St.Paul, Facebook, City Pages]
Have a tip we should know? tips@mediaite.com