A VIP Table for Two at Guy Fieri's New Year's Eve Party Costs, Wait for It, $795 (UPDATED)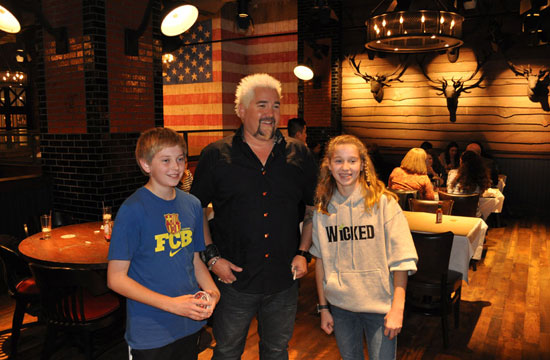 So it's New Year's Eve, you're in New York City, you wanna see the ball drop, and you wanna impress your ladyfriend (or your dudefriend, or your non-gender-specific friend, whichever), but you don't have any plans. BOY HAVE WE JUST DISCOVERED THE BEST PLAN FOR YOU.
For a mere $795, you and your sweet honey can get a special, "elite VIP" table (for two!) at Guy's American Rockin' New Year's Eve party, hosted in Times Square by celebrity chef Guy Fieri himself!*
For the price of two dinners at Per Se, you would expect your Guy Fieri New Year Date to be decadent with foods like, say, gold-dusted nachos, or diver scallops (with pearls), or Lamborghini car-viar. YOU AIN'T SEEN NOTHIN' YET, BECAUSE GUY FIERI HAS UPPED THE ANTE WITH THIS FLAMIN' DEAL:
Cheese Plate
Platter of "Vegetarian California Egg Roll served with Thai chili dipping sauce"
Platter of "Bourbon Brown Sugar Wings tossed in bourbon brown sugar BBQ sauce"
One (1) bottle of champagne
"NYE Party Favors"
A coat check that you have to pay for in addition to your $795 menu
Access to an hors d'oeuvres buffet line that you have to share with the plebes who only paid $105 to get in (and that buffet line has only four menu items)
Unlimited open bar from 8 PM to 1 AM (…okay, that is not so bad, if you just happen to drink the restaurant's entire stash of Johnnie Walker Blue.)
A DJ. Just…a DJ.
America walls. "The walls are proudly decked out in red, white and blue brick and a painted American flag that would make any non-American citizen envious." (REAL SENTENCE.)
Proximity to the Times Square Ball Drop, and the subsequent afterparty, the Post-Ball Drop Public Transportation Death Stampede.
A gratuity that is not included in the price of this hawt deal.
What a hot deal! Everyone who wants to impress their SO by spending New Year's Eve with Guy Fieri**, hop on this deal — it's not gonna last very long!
* Guy Fieri not actually scheduled to attend.
**We're serious, he's not attending. We called host organization Balldrop.com, who said they were "pretty sure" he wasn't attending. His appearance isn't even teased in the party invite. Flavor Town, where is your mayor and why has he abandoned you?!
Update: The price has been removed from the website, but we're pretty sure if you call them, it will still cost $795.
[h/t Kat Kinsman]
RELATED:
Guy Fieri Taking His Donkey Sauce To Las Vegas
WATCH: After Scathing Review, NYT Held 160-Person Party At Guy Fieri's Restaurant
WATCH: Guy Fieri Responds To New York Times Review On Today
Have a tip we should know? tips@mediaite.com