Watch: Brooklyn Hipsters Invade Paris with Park Slope Co-Op (Sacre Bleu! Merde!)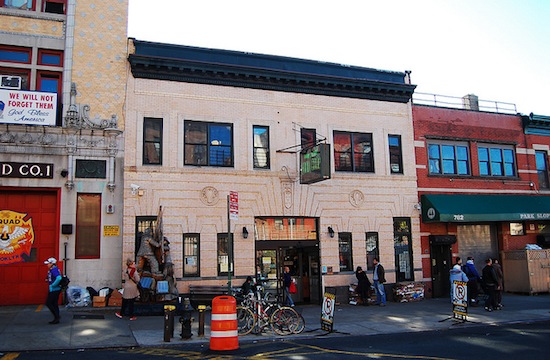 You've got to admit, this is pretty serendipitous timing. While The New York Times reports in its food issue that French food is basically a thing of the past, Grubstreet shares that two American expats will be opening a Park Slope Co-op in Paris come 2015. So pâté and baguettes are historic artifacts, but kale and ramen burgers will take over the City of Lights — wait, what the f*** is happening?
Grubstreet shares that the founders of "La Louve," Tom Boothe and Brian Horihan, are finding an overwhelmingly positive response to the idea. (Or maybe it's the name, which translates to SHE-WOLF. WHY BROOKLYN WHY.) Co-ops just aren't a thing in Paris, they say, but they hope to bring the "branche" (hip) idea of a co-op to "an area with a heavy immigrant population that has proven resistant to gentrification." Sure, because clearly the Park Slope Co-Op has proven to be really good at serving the underserved in the borough in which it resides. Oh wait …
So yeah, even Grubstreet acknowledges that despite the hipster nonsense and hubub about La Louve, this may not work out. (To us, this sounds more Smorgasburg than co-op, and we're pretty sure that no one needs more long lines and "tasty morsels" of too-trendy foods in Paris.)
The question, at least according to some locals, is which neighborhood residents will take to the coop idea. Germain Lignon, a doctor nearing retirement who grew up in the 18th, points to the economic divide, noting that some residents live in low-income government housing, while a younger working class — teachers, engineers — lives there because of its affordability: "It's not in the psychology of people in the neighborhood," he says, pointing out that people struggling with lower finances might not be amenable to simply volunteering their time.
Merde, we need some brie to handle all of this madness. Just watch this French-translated video of La Louve and try not to throw up all the brie you just binge-ate.
RELATED:
The Best Comments From Josh Ozersky's Brooklyn Takedown Piece
Last Call: Brooklyn Whole Foods Opens Tomorrow, Sells Vinyl Records, Eats Itself
This Is What Canada Thinks A Brooklyn Restaurant Is Like
Have a tip we should know? tips@mediaite.com