Food & Wine to Publish All-Female Issue This January, a Huge Coup for Women Everywhere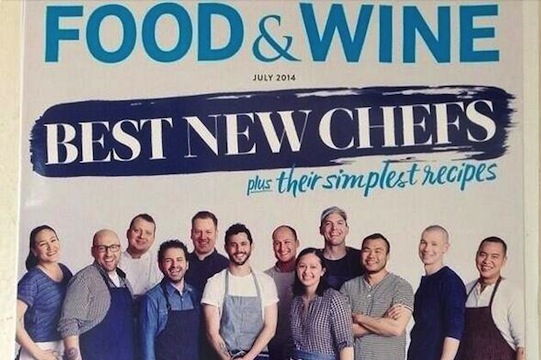 Alas, women still have to crack the glacé "lass ceiling" on Food & Wine's annual "Best New Chefs" (or BNC) list. Actually, a sticky floor is keeping woman chefs off the career ladder and unable to rise to become the top toques.
It appears the professional kitchen pipeline may be a pipe dream for women. The F&W list recognizes innovative, up-and-coming chefs who have been in charge of a kitchen for no more than five years. Nominations are solicited from food critics, writers and experts, by the F&W editors, who visit the nominees incognito.
This year, two women are honored. Cara Stadler, 26, is noted for her Asian-inspired, small-plates restaurant, Tao Yuan, in Brunswick, Maine. She is a graduate of Le Cordon Bleu in Paris and co-owner with her mother, Cecile, who is business manager. Gabrielle Quinonez Denton, 42, was chosen with her husband, Greg, co-chef and co-owner, for their Argentine grilling mecca, Ox, in Portland, Ore. She is a graduate of the California Culinary Academy in San Francisco.
Only 43 women of the 262 Best New Chefs — or less than 16 percent — have made the list since it was launched in 1988. No women were chosen in 2003. One woman was selected from 2004 to 2007 and from 2009 to 2011. Two women were named in 2008, 2012 and 2014.
But there is hope for female professional chefs out there yet.
For more than a decade, I've taken issue with the annual F&W "Best New Chefs" list, because so few women have been selected and the general lack of recognition for women in the food field. I've referred to it as the "Food & Whine" issue. Hence, I was gratified when Dana Cowin, longtime Editor In Chief of Food & Wine, informed me that my advocacy, letters and annual reports — along with leading, outspoken women chefs — have made an impact and a difference. The proof is in the pudding. The January 2015 F&W issue will be dedicated to the women who rule the food world, from star chefs to culinary pioneers to remarkable women who tell us how they've been mentored and inspired by female chefs, home cooks and authors. It's a rare editor who will devote an issue to women's achievements. Well done!
Women in professional kitchens have garnered accolades in other arenas this year, beyond Food & Wine's BNC list. Consider the following:
Three legendary women are among five celebrity chefs honored on a new set of US Postal Service "Forever" stamps. Chinese food champion Joyce Chen, iconic cookbook author and TV personality Julia Child and Southern food ambassador Edna Lewis, are among the chefs chosen for their contributions to revolutionize the food industry.
Alice Waters, 70, is among the record 41 women recognized on the Time 100 list in 2014. She was the first woman to win the James Beard Awards Best Chef in America honors in 1992. Waters has championed organic, locally-grown, seasonal cuisine at her Chez Panise restaurant in Berkeley, Calif.
Most recently, Time magazine engendered an immediate backlash with last November's "The Gods of Food" feature, honoring 13 men and no women Coincidentally, two sister Time Inc. publications — Food & Wine and Fortune — recognize 25 women across all facets of the culinary industry in "The Most Innovative Women in Food and Drink," feature running in both publications in October (and published online). The four chefs included are Christina Tosi, Nancy Silverton, Giada de Laurentiis and Rachael Ray.
And perhaps most notable this year for women in professional kitchens were the James Beard Awards. It was a banner year for women winners at the annual James Beard Awards; there were six women winners in the restaurant and chef categories. Outstanding Chef was Silverton of Pizzeria Mozza in Los Angeles. Outstanding Restaurateur was Barbara Lynch, of the Barbara Lynch Gruppo in Boston. Regional winners were Best Chef, New York City, April Bloomfield; Northwest, Naomi Pomeroy; Southeast, Ashley Christensen; South, Sue Zamanick. Four of the ten regional categories were won by women. Lynch was the second woman in a row to win in the restaurateur category, following Maguy Le Coze of Le Bernardin last year. Silverton's Outstanding Chef win makes a total of four women winners since the awards inception in 1990: Waters, Lidia Bastianich, Judy Rodgers and Silverton.
How can you support women chefs and restaurateurs going into 2015? I'm on a mission to urge women leaders and event planners to put your money where your mouth is and turn up the heat. Seek and support women chefs and restaurateurs when booking events and conferences. This is especially important for events honoring women and sponsored by women's organizations. Please also request female wait and bar staff at contract signing, to support working women. Banquet jobs are among the best paid in the hospitality industry, because the service fee is included in the catering charge. Here's another tip: please remember the phantom hotel housekeeper daily, because the staff rotates.
Let's dish and comment below about talented, innovative, fearless women who should be nominated for the Food & Wine "Best New Chefs" list next year. Why don't women chefs and restaurateurs get more media attention? How will women chefs become top toques and reap their just desserts? Support local women chefs and restaurateurs.
If you're a woman working in a professional kitchen, there are a number of resources that can help you. Leading organizations formed to support and advance women in the profession include:
Les Dames d'Escoffier International (LDEI) has an invitation-only membership of 1,800 members in 29 chapters across the U.S., Canada and UK. Information at LDEI.org.
Women Chefs & Restaurateurs (WCR), founded in 1993 to offer networking, professional and support services, now has over 2,300 members nationwide. The 22nd annual national conference will be held in New York City, April 19 – 20, 2015; information on the member scholarship and internship programs in members' restaurants at womenchefs.org.
Women's Foodservice Forum (WFF) advances women in the industry through programming and events. The 2015 conference will be in Orlando, Fla., March 8 – 11; information at wff.org.
The Association of Food Journalists provides networking and education for writers, editors and critics across media platforms. Information at afjonline.com.
Emerging food entrepreneurs have an opportunity to exhibit in "New Brands" at the Specialty Food Association Fancy Food Shows. The association announced its first annual Lifetime Achievement Awards, honoring five men and no women industry pioneers.
Beverly Wettenstein is a New York City-based journalist, motivational speaker, media monitor and author. She speaks on "A Woman's Place in 2014," bridging the generations with humor and history, to tie-in with the top issues and news stories Wettenstein is founder of "Women Make History Every Day – 365-Days-A-Year Database." She is the author of "A WOMAN'S BOOK OF DAYS." Wettenstein is former Public Affairs Director at American Express, Diners Club, New York Hilton Hotel and Restaurant Associates.
RELATED: In Awesome Lady Chef News, 3 Michelin-Starred Chef to Open 2 New Restaurants in New York City
"Fortune, Food & Wine Name '25 Most Innovative Women in Food,' Gives Us Conflicted Feelings
Female Chefs Dominated the 2014 James Beard Awards
Have a tip we should know? tips@mediaite.com