The World's 50 Best Restaurants Also Happen To Be Great Index Of Global Economic Growth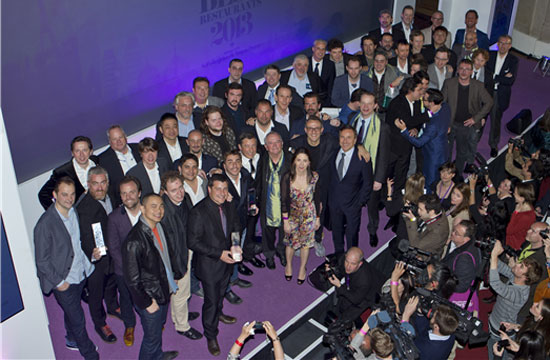 In news that is painfully obvious in retrospect, Quartz ran the numbers on the geographical breakdown of the World's 50 Best Restaurants and found something that screams "duh" so loudly that it could shatter plates: the world's best restaurants happen to be in the world's richest countries. But interestingly enough, they also found that the rankings and the number of said elitist restaurants correlated with the economic growth of the first-world countries they call home.
While the rule doesn't hold in all instances (the top two restaurants, El Cellar de Can Roca and Noma, reside in recession-ridden Europe), countries with rising, renowned restaurants tended to experience higher GPD growth. For instance, Peru's economy grew six percent in 2012, and had two restaurants (Astrid y Gaston and Central) leap up the list. Conversely, the countries with low GDP growth — less than three percent — fared worse: "In the UK, Dinner by Heston Blumenthal and The Ledbury were flat, and Blumenthal's erstwhile #1 The Fat Duck dropped 20 places to #33."
But while the news site concludes that these high-end restaurants are strong indicators of a country's ability to cater to an international, jet-set, fancy-pantaloons elite, there's a tiny catch: the number of billionaires a country has does not correlate to the number of World's Best Restaurants there. If Russia has the third highest billionaire population (oligarchs), why then does it not have any restaurants on the World's Best list? (Oligarchs.)
Rich people problems: being able to purchase diamond collars for your tigers, and a call girl to match your helicopter, but not having one of the World's 50 Best Restaurants in your own country. Maybe next year, Russian oligarchs.
Have a tip we should know? tips@mediaite.com