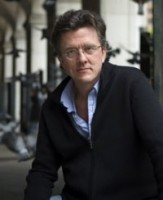 Kurt Andersen , who got his start editing at the Harvard Lampoon has since edited and contributed to an impressive list of publications — Time, New York and The New Yorker, to name a few. He has also founded a few titles of his own, Spy and Inside magazines among them. Kurt has written non-fiction and fiction books, television screenplays and scripts for theater and film. These days Kurt hosts Public Radio International's Studio 360, which is heard on public radio stations nationwide, and is promoting his latest book, Reset: How This Crisis Can Restore Our Values and Renew America. Today he answers our 5QQ – Five Quick Questions.
1. How do you get your first news of the day?
Sometimes Google Alerts, sometimes NYTimes.com, but 90% of the time from the print edition of the New York Times.
2. Either, Or (you gotta pick one!):
New York or The New Yorker? Lehrer or Lopate? Jon Stewart or Jim Cramer?
I recuse myself from the first because I've worked for and like both. I recuse myself from the second because I work with and like both. And I recuse myself from the third because I've been friends for three decades with Cramer (although I watch Stewart nightly).
3. What's the biggest story the media has missed this year? (Or last week):
How would I know? If the media missed it presumably so did I. (Although if I ran a news organization of sufficient size, I think I might have one technology/business reporter dedicated entirely to covering  electrical storage — batteries.)
4. Obligatory Twitter Question: Describe yourself in 140 characters or less (hash tag optional!)
Came from Nebraska to New York willing to be lucky. Like most writers: shy megalomaniac. Unlike many: happyish. http://www.kurtandersen.com
5. Are you nervous or excited about the future of Journalism? Why?
Neither nervous nor excited; more like very intrigued. Not nervous because I think the society's and my most important journalistic needs will continue to be satisfied, and not excited because I don't think important journalistic institutions much better than the ones that now exist will emerge in my lifetime.
Check out Kurt Andersen's current standing on the Mediaite Power Grid
Have a tip we should know? tips@mediaite.com