Twitter Ban Continues: ESPN Bans its Reporters From Sports-Related Social Media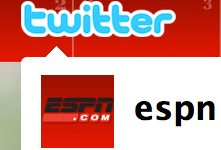 An internal memo released yesterday by ESPN outlined a rigid new policy toward the use of social media by its on-air talent and writers. The new guidelines immediately sent shockwaves around the sports world and raised questions about the ownership of one's personal thoughts and comments and how they can be published — via Twitter, Facebook or apparently any other digital means.
How did the news break? On the personal Twitter feed of ESPN NBA analyst Ric Bucher of course.
Yesterday afternoon Bucher tweeted, "The hammer just came down, tweeps: ESPN memo prohibiting tweeting info unless it serves ESPN. Kinda figured this was coming. Not sure what this means butI…I'm probably violating some sort of policy just by telling you. In any case, stay tuned." Bucher's tweet was initially noticed by theBigLead.com, and was eventually picked up across a multitude of other sports-related blogs and websites.
This comes on the heels of a series of news items in which the use of Twitter (and other social media) has been banned by the military and professional sports organizations. Are we seeing a new trend of bans on social media? Three stories in two days seems to indicate as much.
When contacted for comment, ESPN Spokesman Paul Melvin offered: "We have been active in the social media space for awhile. As our mission is to serve sports fans, we will continue to be active. We are now merely getting smarter about it by providing guidelines to commentators and reporters." (The full text of the memo can be found below.)
But is it smarter? The reason we tune in to watch ESPN (or go to ESPN.com) is to hear or read the opinions and insight from their staff. In fact, the reason that these people were hired in the first place is because of their unique access and analysis. If such comments are now prohibited on Twitter, won't the viewing audience seek new sources for opinions, wit and commentary?
Take for example Bill Simmons – perhaps the biggest single "name-brand" writer on ESPN.com. He has legions of followers on Twitter (over 550,000) and personally believes that it is the biggest story the media has missed this year. In an interview with Mediaite published on July 22nd, he offered this:
3. What's the biggest story the media has missed this year?

The potential of Twitter. Old-school media doesn't get Twitter at all. A lot of people still think it's a fad and it's totally not a fad. Cocaine was a fad. The Osbournes were a fad. Auto-asphyxiation was a fad…. well, unless you were David Carradine. If anything I think we are just scratching the surface of Twitter for better and worse: it started breaking stories last spring and over everything else, that's why it won't go away. Now reporters are posting scoops on Twitter before they send the finished stories into their employers. People are not seeing what is happening here. Facebook is a social network; Twitter is a media/marketing vehicle disguised as a social network. (Read the entire interview here)
So what was Simmons initial reaction to the ESPN Twitter ban? "@sportsguy33 – My take on the great unspoken: Ultimately it's good if (redacted) incorporates (redacted). Had to start somewhere. I trust @rfking. So there."
For the rest of the evening he walked a fine line between ignoring the new corporate dictum and tweeted about his beloved Red Sox, commenting on Boston Manager Terry Francona's post-game interview and dinner plans. Is that sports related? Where does one draw that line?

Simmons is an excellent example of this new and uncharted territory we now find ourselves in with Twitter feeds, corporate contracts and intellectual property. Surely ESPN deserves some credit for creating the national platform that's helped create the digital star, but what makes Simmons so appealing to his fans is all him — his thoughts and words, not those of ESPN.
What we love about him is not just his takes on sports — but how he inextricably ties his insight to pop culture with just as salient metaphors. Take the sports away from Simmons' pop culture reference? Its like taking the chocolate away from a Reece's peanut butter cup — all that's left is the partially hydrogenated filling they try to pass off as peanut butter.
Deadspin has done a terrific job of covering this story, and recently added this vague and mysterious update: "UPDATE: Hmm. Bucher might be in trouble? Developing…"
Where can you find Simmons take on Bucher's initial tweet? Why on Twitter of course:
@sportsguy33: A clip from Robert DeNiro's upcoming movie, "The Ric Bucher Story."
He then linked to the following clip:

ESPN's Internal Memo:
ESPN'S ADDITIONAL GUIDELINES FOR SOCIAL NETWORKING
ESPN regards social networks such as message boards, conversation pages and other forms of social networking such as Facebook and Twitter as important new forms of content. As such, we expect to hold all talent who participate in social networking to the same standards we hold for interaction with our audiences across TV, radio and our digital platforms. This applies to all ESPN Talent, anchors, play by play, hosts, analysts, commentators, reporters and writers who participate in any form of personal social networking that contain sports related content.

ESPN Digital Media is currently building and testing modules designed to publish Twitter and Facebook entries simultaneously on ESPN.com, SportsCenter.com, Page 2, ESPN Profile pages and other similar pages across our web site and mobile platforms. The plan is to fully deploy these modules this fall.

Specific Guidelines

Personal websites and blogs that contain sports content are not permitted
Prior to engaging in any form of social networking dealing with sports, you must receive permission from the supervisor as appointed by your department head
ESPN.COM may choose to post sports related social media content
If ESPN.com opts not to post sports related social media content created by ESPN talent, you are not permitted to report, speculate, discuss or give any opinions on sports related topics or personalities on your personal platforms
The first and only priority is to serve ESPN sanctioned efforts, including sports news, information and content
Assume at all times you are representing ESPN
If you wouldn't say it on the air or write it in your column, don't tweet it
Exercise discretion, thoughtfulness and respect for your colleagues, business associates and our fans
Avoid discussing internal policies or detailing how a story or feature was reported, written, edited or produced and discussing stories or features in progress, those that haven't been posted or produced, interviews you've conducted, or any future coverage plans.
Steer clear of engaging in dialogue that defends your work against those who challenge it and do not engage in media criticism or disparage colleagues or competitors
Be mindful that all posted content is subject to review in accordance with ESPN's employee policies and editorial guidelines
Confidential or proprietary company information or similar information of third parties who have shared such information with ESPN, should not be shared

Any violation of these guidelines could result in a range of consequences, including but not limited to suspension or dismissal.
Have a tip we should know? tips@mediaite.com