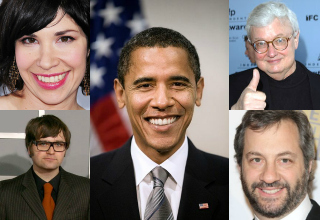 What's that, you say? "Hollywood" (shorthand for people who are famous in some way, shape, or form) generally skews in favor of voting for President Barack Obama? Well, do you have evidence… besides all those fundraisers and celebrity endorsements?
90 Days, 90 Reasons, you say?
Oh, okay. Here's what that is: McSweeney's, the publisher that has brought you Grantland and works from countless acclaimed writers like Michael Chabon and Stephen King, has launched a new website by that name, solely dedicated to convincing readers to vote for Obama this November. The site is called 90 Days, 90 Reasons because it will feature one new essay from a different celebrity each day leading up to the election.
So far, the site has published essays by musician (and former Zooey Deschanel husband) Ben Gibbard and film critic Roger Ebert. Gibbard's essay pleads with readers to vote for Obama because of his newfound and open support for same-sex marriage; Ebert's essay used his cancer surgeries as a launch-point for praising the president for how he "faced down the GOP and the health industry to finally reform American healthcare."
The other 88 authors won't be revealed in advance of their publication, but McSweeney's has announced a few others, including director Judd Apatow, Daily Show contributor John Hodgman, Arcade Fire frontman Win Butler, and Portlandia star Carrie Brownstein.
This is not the first time McSweeney's and their powerful friends have engaged in a bit of politics. During the George W. Bush administration, the group teamed up with MoveOn.org for The Future Dictionary of America in which 200 authors like Stephen King, Kurt Vonnegut, Jonathan Franzen, and Joyce Carol Oates came up with new words from the future, after America gets over the Bush years.
[h/t AV Club]
— —
>> Follow Andrew Kirell (@AndrewKirell) on Twitter
Have a tip we should know? tips@mediaite.com