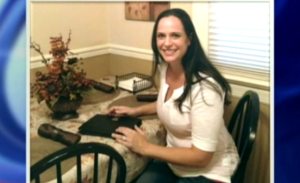 MaryAnn Sahoury created an educational breastfeeding video only to later find that footage of her and her newborn daughter had apparently been stolen and was included in a pornographic video. Upon the discovery, Sahoury decided to sue.
Sahoury "worries that the stigma of being associated with Internet pornography will shadow both her and her daughter — referred to in legal documents as A.S. — for the rest of their lives." Per ABC News:
"A.S. is not even two (2) years old. She will be faced with continuing damage as she engages in elementary school, middle school, high school and then college. This may haunt her for years to come because what has occurred can never entirely be removed from the Internet," according to the lawsuit filed in U.S. District Court against Meredith Corp., the Iowa-based media and marketing giant that filmed Sahoury and her daughter.
Specifically, Sahoury has sued for fraud, misrepresentation and negligence. Sahoury was recruited to be part of the educational video for Parent TV by her lactation consultant. That brand, as well as Parents Magazines and Ladies Home Journal and Better Homes and Gardens, is owned by Meredith Corp.
In a statement, the company said it was "appalled that someone would misuse a video meant to help new mothers." Meredith also defended its effort to help Sahoury:
"Meredith took immediate and substantial action when made aware of the situation, and we have gone above and beyond any contractual responsibilities, expending a substantial amount of time and money," the company said. "We have hired leading law firms to file take-down demands, and retained top Internet specialists to both clear online caches and create positive references. We are confident that the steps we have taken are helping to mitigate the issue. We are continuing these good-faith efforts even after Ms. Sahoury filed her lawsuit."
According to the lawsuit, Sahoury has suffered panic attacks, vomiting and depression as a result of the issue. The complaint said, "Having been told that this will never completely go away has only made matters worse."
Have a look at the report:

(H/T ABC News)
Have a tip we should know? [email protected]