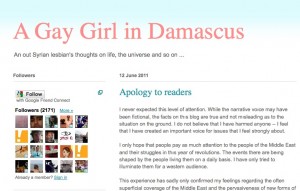 A Gay Girl in Damascus chronicled the daily life of Amina Abdallah Arraf, a 35-year-old lesbian living in Syrius who, according to a recent post on the increasingly popular blog, seemed to have been detained in the country's capital. The blog inspired panic, only to have it later revealed that the blog's author was, in fact, a 40-year-old American graduate student named Tom MacMaster. Hello, and welcome to the internet.
MacMaster recently decided to come clean about his identity, telling readers that he never expected the blog to receive the level of attention that he did:
I never expected this level of attention. While the narrative voıce may have been fictional, the facts on thıs blog are true and not mısleading as to the situation on the ground. I do not believe that I have harmed anyone — I feel that I have created an important voice for issues that I feel strongly about.

I only hope that people pay as much attention to the people of the Middle East and their struggles in thıs year of revolutions. The events there are beıng shaped by the people living them on a daily basis. I have only tried to illuminate them for a western audience.

This experience has sadly only confirmed my feelings regarding the often superficial coverage of the Middle East and the pervasiveness of new forms of liberal Orientalism.

However, I have been deeply touched by the reactions of readers.

Best,
Tom MacMaster,
Istanbul, Turkey
June 12, 2011..

The sole author of all posts on this blog..
MacMaster told The New York Times that he had initially created the blog's central character as a handle in online discussions about the Middle East. After the viewpoints he had expressed as this other person seemed to take off on a blog called Lez Get Real, he decided to use this identity as a platform for further discussion on his own blog. In the meantime, he corresponded with several others online under this identity – people who would argue with his assessment that he "didn't hurt anyone" by pretending to have been someone else.
MacMaster had previously denied being the writer of the blog after having been confronted about his possible role by both The Washington Post and The Electronic Intifada.
h/t New York Times
Have a tip we should know? [email protected]