Aaron Schock Compares Himself to Lincoln in Farewell Speech: He Only Served One Term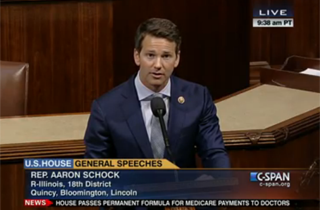 Rep. Aaron Schock (R-IL) made his first public appearance in weeks today, formally saying goodbye to his colleagues during a speech on the House floor, and promising that one day, he would rise out of the ashes of his political career like a beautiful phoenix named Abraham Lincoln.
Schock, who resigned in disgrace after revelations about how he spent taxpayer money and received unethical freebies, apologized to his constituents from Illinois's 18th District and said that he was honored to play a role in creating a Republican majority in Congress (albeit as a highly effective fundraiser). "There was, is and will be so much to do and I'm honored to have played a small part in making a real difference," he said. (Schock did not write any legislation that became law during his six years in Congress.)
Schock, who is currently the subject of an FBI criminal investigation, then compared his trials to those of the greatest politician in American history:
Abraham Lincoln held this seat in Congress for one term. But few faced as many defeats in his personal business and public life as he did. His continual perseverance in the face of these trials, never giving up, is something all of us Americans should be inspired by, especially when going through a valley in life. I believe that through life's struggles, we learn from our mistakes and we learn more about ourselves.
It should be noted that Lincoln, only held a seat in Congress for one term because, during his 1846 campaign, he promised to serve in Congress for one term. (It was apparently a Whig Party thing, and, had Abraham Lincoln had access to Instagram and a plane, would probably not have used either of those to live a lavish lifestyle.) Also: Schock served three-and-a-half terms.
Watch below via C-SPAN:

[C-SPAN]
[Image via screenshot]
—
>> Follow Tina Nguyen (@Tina_Nguyen) on Twitter
Have a tip we should know? tips@mediaite.com