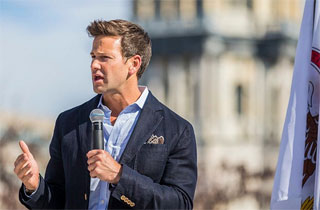 According to a new Associated Press investigation, Rep. Aaron Schock (R-IL) used taxpayer and campaign funds to pay for concerts and trips on private planes owned by wealthy donors, among other lavish expenses.
The AP found that Schock, a member of Congress since 2009, spent more than $40,000 on at least 12 flights on donors' private planes since mid-2011. Beyond that, Schock spent thousands on concert tickets, and even took his interns to a sold-out Katy Perry concert last June. One of the interns, according to the AP, posted an Instagram photo of Perry from the concert with the following message: "You can't say no when your boss invites you. Danced my butt off."
Schock, who is already the subject of a potential ethics investigation, came under fire earlier this month after a reporter took note of his Downton Abbey-inspired Congressional office. Schock told ABC News of the controversy, "haters are gonna hate." Shortly after the Downton Abbey uproar, Schock's communications director resigned amid some racially-charged social media posts.
–RELATED: Downton Abbey Congressman's Lavish Spending Includes Taxpayer-Funded Hot Photographer
The AP's investigating tactics were also notable, as they used location data from Schock's Instagram posts to draw links between what they found in public records:
"The AP tracked Schock's reliance on the aircraft partly through the congressman's penchant for uploading pictures and videos of himself to his Instagram account. The AP extracted location data associated with each image then correlated it with flight records showing airport stopovers and expenses later billed for air travel against Schock's office and campaign records."
[Image via Aaron Schock/Instagram]
— —
>>Follow Andrew Desiderio (@forza_desiderio) on Twitter
Have a tip we should know? tips@mediaite.com