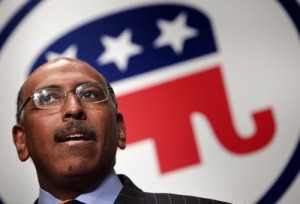 In an article published this morning, ABC reports on the severance package paid to former RNC Chief of Staff Kenneth K. McKay IV, the top staffer who was let go in the wake of the bondage-themed nightclub scandal from a few months ago. McKay has signed an extensive confidentiality agreement and been paid more than $100,000 of what ABC sources inside the party call "hush money."
From ABC News:
"One GOP insider described the six-figure payment to outgoing RNC Chief of Staff Kenneth K. McKay IV – negotiated even though McKay had scarcely a year on the job — as "hush money" to keep a former employee from divulging details of Michael Steele's controversial tenure as RNC chair.

Party insiders told ABC News the six-figure payout represented McKay's severance package, and came in exchange for him signing a strict confidentiality agreement. Two RNC sources, both of whom spoke on the condition they not be identified, said similar deals were struck with others who had been forced out in the last few months. Both sources have been critical of Steele's leadership. They said in separate interviews that, while they were not alleging that anything illegal took place, they believe the McKay agreement and others like it are aimed at preventing the departing cast of employees from disparaging Steele. McKay, who had received $163,000 in salary payments, did not respond to messages left at his home in Rhode Island."
When ABC contacted RNC spokesman Doug Heye about the allegations, he pointed out that a confidentiality agreement is nothing out of the ordinary, however, he would not comment on the payments. Is there something sinister going on or is ABC making a mountain (and a provocative headline) out of a molehill? Since the sources themselves are saying that the money isn't to hide anything illegal, it seems like an awful lot of money to dole out just to keep people from bad mouthing your boss.
Have a tip we should know? tips@mediaite.com