Christopher: Adorable Conservatives Think They Have Video Evidence Bush Had it Worse Than Obama
Christopher: Adorable Conservatives Think They Have Video Evidence Bush Had it Worse Than Obama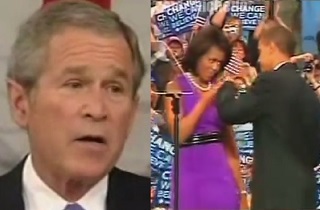 This Valentine's Day, conservatives have found a new way to love themselves, bathing in the fine whine of a video compilation that's pegged to House Minority Leader Nancy Pelosi's (D-CA) recent comment to Chuck Todd that "We did not treat President Bush this way," and purports to show how former President George W. Bush had it way worse than current President Barack Obama. It is adorable.
Set aside, for a moment, the current score of Unnecessary Wars and Cataclysmic Economic Collapses for Bush 2, Obama zero, and pretend these two actually deserve to be treated exactly the same. Here's the best the conservatives could come up with:
Now, let's also set aside the fact that at least a few of those clips are from after Bush had already left office, and include stand-up comics, and how 1/2 of a Ted Nugent Obama highlight reel makes this compilation sound like an actual Valentine. Let's even forget that the right wing treated Nancy Pelosi worse than this, alternately fantasizing about poisoning her to death and waterboarding her.
It might seem fitting to respond with a supercut of right-wingers joking about killing President Obama and other such treatment, but that would take way too long, and would hardly be sporting. Plus, that would not be at all romantic, and this is Valentine's Day. Instead, why not counter their two minutes of eight-plus years of deserved criticism of President Bush with three minutes of how the right treated Michelle Obama far worse than that, before she was even First Lady, and only on Fox News, not even including the entire rest of the right-wing-o-sphere? Happy Valentine's Day, conservatives:
[h/t Alexa Shrugged]
Have a tip we should know? tips@mediaite.com