Adweek's Michael Wolff On News Corp., Its 'Mob-Like Structure,' And A Potential RICO Investigation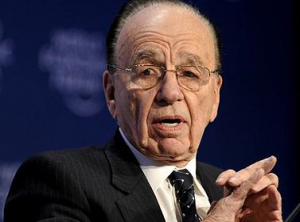 Adweek's Michael Wolff, who has previously used organized crime as a metaphor to explain Rupert Murdoch's News Corp., expands on the "mafia" metaphor in a new article that portrays Murdoch as the ultimate boss around whom the entire corporate structure has been built. "It's an organization all about doing what Rupert wants you to do, or doing what you imagine Rupert wants you to do, or doing what you imagine your boss imagines Rupert wants done. There are few companies as large as News Corp. that are so devoted and in thrall to one man."
In the story, "How Bad Is News Corp.?," Wolff describes a company that takes care of its friends, and goes after its "enemies."
And partly, it's because the fundamental currency of the company has always been reward and punishment. Both the New York Post and Fox News maintain enemy lists. Almost anyone who has directly crossed these organizations, or who has made trouble for their parent company, will have felt the sting here.
As the hacking investigation that led to the end of the U.K. paper News of the World and the active investigation by police and Parliament, Wolff suggests the "mob-like structure" of News Corp. may not be seen as metaphor by investigators in the U.S.:
But just because it's a metaphor doesn't mean it isn't the real thing, too.

Well-sourced information coming out of the Department of Justice and the FBI suggests a debate is going on that could result in the recently launched investigations of News Corp. falling under the RICO statutes.
Have a tip we should know? [email protected]