After Cruz's Convention Appearance, Kasich As Confident As Ever He Made Right Call to Skip RNC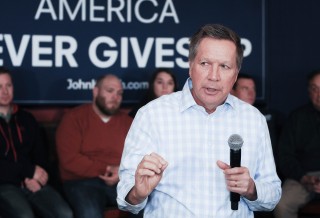 Ohio Governor John Kasich has no doubts he made the right decision about skipping the RNC after last night. Following Texas Senator Ted Cruz not endorsing New York Businessman Donald Trump and being booed by the crowd, Kasich seemed even more confident in his decision to not attend the convention.
"I think you can all understand why I didn't show up to speak at a convention, by the way, after what you saw last night," said Kaisch at a breakfast for Ohio Republicans according to the Hill.
The Ohio Governor was one of Trump's major primary adversaries and has long said that he would not endorse Trump for president. Instead, he claimed that he would support down ticket Republicans like John McCain in Arizona and Kelly Ayotte in New Hampshire.
Trump shrugged off the Texas senator's failure to endorse him by tweeting out that he wasn't concerned by it.
Wow, Ted Cruz got booed off the stage, didn't honor the pledge! I saw his speech two hours early but let him speak anyway. No big deal!

— Donald J. Trump (@realDonaldTrump) July 21, 2016
However, real estate mogul's campaign has taken to the media to attack Cruz's decision to not honor his pledge to support the Republican nominee that he made in an early primary debate.
Despite being adamant about not endorsing Trump, Kasich has acknowledged that he has created some tension in the Republican party. "I have personally made his job more difficult," said Kasich of Ohio GOP chairman Matt Borges.
The Buckeye state Governor is also pleased with the rather calm week in Cleveland and he hopes that having the RNC convention will bring increased prosperity to Cleveland.
"We think at the end of it there will be economic gain and job creation that will come from this," Kasich said.
—
[image via Shutterstock]
Have a tip we should know? tips@mediaite.com