AG Jeff Sessions Spoke to an 'Anti-LGBT Hate Group' and is Refusing to Release His Speech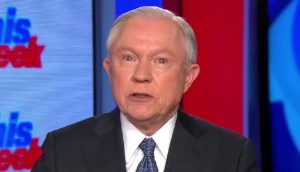 Attorney General Jeff Sessions has a much deserved record of both casual racism and outright attacks on civil rights, but his latest actions reveal he's hardly concerned about his reputation for bigotry. Sessions opted to speak to members of the Alliance Defending Freedom, identified by the Southern Poverty Law Center as an "anti-LGBT hate group" in 2016, at an event closed off to reporters on Tuesday night, and now, Sessions is refusing to release his remarks to the group to the public.
ABC News reports that the Department of Justice confirmed that Sessions spoke to the group on Tuesday, but didn't respond to multiple requests for Sessions' remarks to the group. Instead, the department released transcripts of Sessions' remarks from speeches made in Dallas and Las Vegas this week. A spokesperson for the Alliance Defending Freedom told ABC News the group was "working through channels" to release his remarks, but did not specify when they would be released, nor did the group comment on the nature of its relationship with Sessions.
Unsurprisingly, the event promised to "bring together prominent legal advocates, scholars, cultural commentators, business executives and church leaders to examine the current state of religious freedom" and "develop legal and cultural strategies to allow freedom to flourish in the United States and around the world."
President Donald Trump and especially Vice President Mike Pence have made it clear that upholding the administration's interpretation of "religious liberty" will be a priority in the years to come, which, in essence, is conservative code for giving intolerant people the green light to discriminate.
The promise of religious freedom that the United States was built on was intended to ensure everyone the right to practice — or not practice — their own faiths, but in today's America, religious freedom laws exist solely to punish Americans who don't live their lives according to Christian norms.
They exist to allow gay people, Muslim communities, people of color, and promiscuous women to be legally discriminated against and fired or evicted, to allow women to be denied crucial health services. Now, these laws exist to enforce an ideology of puritanical intolerance on everyone, and Trump and all of his cabinet members have made it exceptionally clear in their own ways that they're on board.
Education secretary Betsy DeVos has said she won't interfere in cases of discrimination and anti-LGBT bullying that emerge in private schools, while Health and Human Services secretary Tom Price has called the Affordable Care Act's contraceptive mandate, which has helped thousands of low-income American women access affordable or free birth control, an affront to "religious freedom."
According to SPLC, the Alliance Defending Freedom "specializes in supporting the recriminalization of homosexuality abroad, ending same-sex marriage and generally making life as difficult as possible for LGBT communities in the U.S. and internationally." The group is currently defending Colorado baker Jack Phillips, who notoriously refused to bake a wedding cake for a gay couple saying he didn't believe that "Jesus would have made that cake," as Phillips challenges Colorado's nondiscrimination protections.
As attorney general, Sessions has an unsettling amount of power to determine what policies are or aren't enforced, and his coziness with a group that thinks punishing and ostracizing the LGBT community is "freedom" is almost as alarming as his reluctance to release his speech to them.
This is an opinion piece. The views expressed in this article are those of just the author.