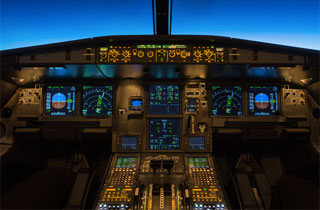 Insert your own "cockpit" jokes here: according to the CBC, Air Canada has an endemic, institutional problem of airline pilots storing, displaying, and in some cases, gluing pornographic images on the equipment in their cockpits.
The CBC report states that Air Canada has had to send out repeated memos to its pilots to please not look at pornography while flying enormous passenger jets, thank you. The incidents were first reported by a female pilot, who says she's been finding both sexually and racially-charged content in many planes:
The pilot provided Transport Canada inspectors with photos and video of the sexually explicit, and at times violent, images she says she found.

"Someone has drawn a knife in the back of the girl on the right hand side," she writes in one email.

"The fact that porn IS still present and… very much on the minds of the individuals that fly the EMJ [Embraer planes], should ring alarm bells for your department as much as it does for me," she writes in an email dated Aug. 3, 2013.
The latest memo, sent out four months ago, has a tinge of disappointment to it:
CBC News has obtained an internal Air Canada bulletin warning flight crews they could be fired or face criminal charges for placing "inappropriate material" in the flight deck, also called the cockpit.

"I am disappointed to have to raise this issue once again but unfortunately we have some people that have yet to understand the message," writes Rod Graham, Air Canada's chief pilot and director of fleet operations and training.
Oh! You can also insert a Snakes on a Plane joke here, too!
[h/t Times Live]
[Image via Shutterstock]
—
>> Follow Tina Nguyen (@Tina_Nguyen) on Twitter
Have a tip we should know? tips@mediaite.com