Al Jazeera Director Resigns Following Wikileaks Release Showing Close Ties To U.S. Government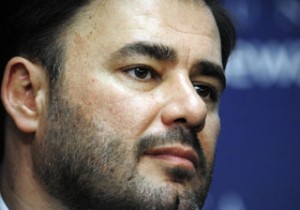 Qatar-run Al Jazeera announced this morning in a statement that Wadah Khanfar, the network's director of eight-years, has resigned and is to be replaced by a member of the royal family. Khanfar has been credited with both revolutionizing the Arab media landscape and extending Al Jazeera's global reach. Khanfar explained this morning on his well-kept twitter that he has "served Al Jazeera with pride as a correspondent, bureau chief, managing director and director-general" and "Everyone will agree that Al Jazeera is stronger than ever," but that "8 years is a long time to be leading a Network. Renewal and change is always good."
The Gaurdian notes, however, that his departure is "a sudden and dramatic move at a time of unprecedented turmoil across the Middle East." While Al Jazeera's official statement makes clear that Khanfar's resignation has been planned since the beginning of the summer, but there might be something more to timing. As the Associated Press points out, Khanfar's resignation follows the release of a Wikileaks cable depicting close ties between the director and the U.S. government. The cables, dating back to October 2010, indicate that Khanfar was in frequent contact with the U.S. Defense Intelligence Agency, and that on at least one occasion he submitted to their requests to remove content. The AP reports:
The cable, written on Aug. 30 by the U.S. embassy in Doha, said the a website piece, "Live Testimony Concerning Tal Afar," showed 10 witnesses giving their accounts of U.S. military operations in Iraq.

Khanfar, according to the cable, "had taken a look at the piece and had two images removed (two injured children in hospital beds and a women with serious facial injury)."

Khanfar also referred to "a non-paper" agreement between the station and U.S. government, in his criticism of another August report by DIA pointing to a "violation to the station's agreement." Khanfar responded by saying "as a news organization, we can't sign agreements of this nature, and to have it here like this in writing is of concern to us."
This sort of censorship comes down poorly on both parties. It suggests that Al Jazeera, which has been praised for breaking the "the mould of Arabic media organisations that were bankrolled by and subservient to governments or cowed by censors," might be waffling to the strong-arming of U.S. It also suggests that meddling a part of the U.S.'s defense program involves meddling in foreign media. As the AP points out, although praised for its recent coverage of the Arab Spring, Al Jazeera has not yet found a real place in the American media landscape.
Have a tip we should know? tips@mediaite.com